Great Trail Festival--Our Day of Respite Care
Two Feather and I never plan anything because when we do, nothing normally goes according to plans. We did have an idea for our day together, though. We were hoping to enjoy something we've missed for a few years—The Great Trail Festival. It's a combination of a woodsy craft show, rendezvous, and time period encampment.
The last few times Two Feather and I attended the festival we dressed in time period clothing along with all those who set up their wares. This year we decided to enjoy the festival in street clothes rather than regalia and we thought about getting there early in the morning so we could spend the entire day perusing the makeshift shops.
Early didn't come. It felt strange sleeping in my own bed. I can't remember the last time I've had such a relaxed, comfortable, full night's sleep. I slept so comfortably and sound, Two Feather didn't want to wake me, so he let me sleep until 8:00. That's late for me since I'm normally up at 6:00 every morning. By the time I drank my second cup of coffee and pried my eyes open it was 9:00.
We left at 9:30 AM and arrived at the festival at 11:00. I stopped near the entrance and took a picture of the buffalo on the hill.
As soon as we walked through the front entrance we knew there was a huge change from the years we'd been there before. There were fewer vendors, fewer attendees—fewer everything. It took only an hour and a half to walk around the entire festival, twice. The four vendors whom we were looking forward to glancing through their wares were not set up this year. It was a bit disappointing, but we still enjoyed the atmosphere and we did spend some time with our friend Dave.
We left at 12:30 and were home by 2:00 PM. So, what to do, what to do? We suddenly have all this time on our hands without having to watch a clock to be back or end our day together by a certain time, and we were at a loss as to what to do. And because we have no life other than taking care of Mom, we really have nothing new to talk about. That's terribly sad. Even the saddest situations Two Feather will find the good and nurture it into something better. He either will give you something to think about or he'll leave you smiling. Normally, for me, he leaves me smiling.
We're both movie buffs, so every time we go to Wal-Mart we buy the newest release to add to our collection and watch during the winter months when there's not much to do. Recently we bought a few movies, and there wasn't much else to do, so he tore off the plastic wrap on the first DVD and stuck it in the player. For the next two hours he sat in his chair and I sat on the couch and watched Hills Have Eyes 2. When that movie was over, we took a short break, went outside and walked around the yard, grabbed a cold can of Coke, and went back inside to watch the Zodiac Killer.
During both movies, we glanced at each other, smiled, and returned our attention to the show. It felt strange for both of us to be doing some of the things we so much took for granted before I moved in with Mom. Sitting across from each other in our living room hasn't been a normal site for quite some time. Sitting across from each other and smiling at each other, enjoying each others presence, and knowing I didn't have to get up and leave gave us both a serene feeling, yet an uncomfortable feeling. We enjoyed our time together immensely but we didn't want to get used to it; had to keep pushing the thought in the back of our minds that it would end soon and I'd be back at Mom's house and he'd be alone in ours.
Time together like this is wonderful. It's sort of a renewal of our commitment to each other and renewal of our energy to fulfill my commitment to Mom.
Labels: Buffalo, commitment, energy, Great Trail Festival, jdkiggins, Mom, Respite Care, Two Feather
Make me smile. Leave a comment...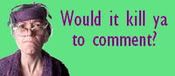 Comment Icon From
Paper Napkin