Ticket--Still Waiting
Wedenesday, August 29, 2007
I never received a call from the Chief about that ticket yesterday so I called again this morning and left another message with dispatch. Dispatch said he did forward the message and had no idea why I hadn't received a call back.
The ticket indicates that fines must be paid within 15 days or further legal action would be taken. I figured the Chief must have had a busy day yesterday and today because by 3, I still hadn't received a call back. I called the direct number for the police station and received the administration office. The lady there told me that she did give him the message and she would be sure to have him call me back. I guess at this point I'll be waiting until tomorrow. Not sure when his shift ends.
Mom was exhausted again when I picked her up at Day Care. She knows nothing about the ticket and I didn't bother telling her.
I made a nice dinner of chicken, noodles, peas and carrots and diet pudding. Mom liked it all, but ate only a few bites of each. She said she wasn't hungry and was tired.
She's asleep now, so I plan to stretch out on the bed and catch up on my rest.
Labels: jdkiggins, Parking Tickets, rest, waiting
Make me smile. Leave a comment...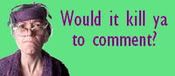 Comment Icon From
Paper Napkin