It Isn't Worth the Aggravation
Monday, September 3, 2007
I called my oldest brother and asked if he had taken the pages from Mom's family album the last time he was up. He said, "No, I wouldn't take the only thing that would help her remember." I told him that was why I was so upset that they were ripped out and missing; because it is the only way to show her she had a past and those memories/pictures are now gone.
So, here I am, between a rock and a hard place, again, wanting to help Mom keep her memory as long as possible and not being able to ask for pictures taken from her own album. After speaking with my oldest brother, I remembered I had shown Mom the album before and wrote about it in my blog. I searched and found my writing in October, 2005. This verified to me that he couldn't have taken the pictures because he hasn't been up to visit since 2004.
He told me not to bother asking my other brother because I'd just end up with World War III on my hands. I agreed and haven't bothered with it.
It's sad that the few things Mom could or may enjoy have been taken from her personal family album and her home. I get so tired of dealing with added nonsense that I'm inclined to agree with my oldest brother. It would cause World War III and I'm not willing to get sick over childish foolishness. It isn't worth the aggravation.
I had planned to make copies of the album for each of us kids when her journey with Alzheimer's Disease is complete.
Hopefully, between the copies of pictures Mom had given me over the years, what pictures I'd already had, and the pictures in my uncle's album, I'll be able to make a new memory album for Mom that will be nearly as good as the one she had.
Labels: aggravation, Alzheimer's Disease, family photo album, jdkiggins
Make me smile. Leave a comment...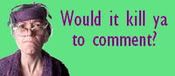 Comment Icon From
Paper Napkin