Went to See Uncle Joe & Dealing With Dilemmas
Sunday, September 2, 2007
Went to see my Uncle Joe at the nursing home. Mom and I enjoyed sitting outside with him for the afternoon. It was the last hot dog roast for the summer. We all enjoyed our hot dogs and sat on the bench outside until about 3:30. Joe was in good spirits but sad to see us leave. I'm thankful that he understands Mom gets tired and I neededed to get her home.
We were home by 4:00 and Mom was exhausted from sitting and talking all day and walking the 30 feet (twice) from the front entrance of the nursing home to the car.
She wasn't hungry because she ate the hot dog at 3:00, so I made a small salad and she ate about half of it before she started dozing off at the table. It took until 5:00 to get her cleaned up and dressed for bed. Once she was comfortable in bed, she was snoring by 5:15.
Mom gets worn out easily from doing practically nothing. I sit and listen to her breathing and realize that it won't be long before she's unable to visit with me when I go to see Joe. The ride, the walk from the car to the front entrance of the home, and sitting trying to think of things to talk about is exhausting for her.
Tonight I sit and contemplate all that has gone on lately and I wished for others to understand what she's going through, what it takes to be a caregiver for her as she goes through the stages of Alzheimer's Disease, and I try once more to relax and take advantage of the time she sleeps. I begin to question myself, and wonder if I've done the best thing for Mom by keeping her in her home, in her own environment, and trying to keep her memory for as long as possible. When I've hashed out all the problems I've dealt with that aren't associated directly with keeping Mom safe, warm, loved, and comfortable, I come to the same conclusion. I'm doing the right thing. I'm doing exactly what Mom asked me to do. Now, if I could just continue to keep telling myself that, my job of care giving would be so much easier. I need to remember that I do not need to explain my decisions to those who don't agree with me, I do not need to explain why I have to keep Mom on a schedule, and I do not need to be everyone's "excuse" for what they do not understand or do not want to accept. I can only send information about the disease, let them know that they are responsible for learning what they can and they are responsible for their own feelings of inadequacy. If they don't feel they see her often enough, maybe they should pick up the phone once a week rather than once every 4-6 weeks when it's convenient for them. I've tried everything from bending over backwards, to being blunt, to ending up in an argument—none of these courses I've tried have made a difference.
I've finally reached the point where I have to ignore the problem people, continue to do what I've been doing for Mom and make sure I begin to take care of myself as well. I cannot let people who don't understand Alzheimer's Disease and its many ups and downs, upset me and possibly endanger my health. If that happens, there would be no one to care for Mom.
Labels: Alzheimer's Disease, comfortable, jk, Mom, nursing home, safe, Uncle Joe
Make me smile. Leave a comment...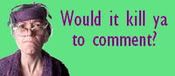 Comment Icon From
Paper Napkin