Photo Album Pages Ripped Out--Memories Gone
Saturday, September 1, 2007
Mom was up about six times last night. It always amazes me that she can wake up, yell for me to help her with her pants, and be back to sleep and snoring before I get back in bed. Of course, I lay there trying to go back to sleep and normally don't until after her third or fourth need to use the pot. Once I'm awake, it's very difficult for me to go back to sleep. I'm starting to look like a raccoon with my black circles under my eyes.
I did manage to get a few hours sleep before I woke her up at 9:00. She wasn't happy about getting up and she was less happy about having to get a shower. After an hour in the bathroom, I finally had her washed, dressed and ready to sit in the kitchen to eat. Mom is normally always very sweet, but when Alzheimer's Disease and agitation decides to take over her brain, she can be a handful.
This morning she wanted to know where we were and why we weren't eating at her house. For months she's not recognized her own home and I continue to point out the things that might register: the cabinets that Dad built and put in the kitchen, the ceramic trivets she made that are and have been hanging on the kitchen wall for thirty years. Lately, I realized that she really doesn't remember these things; she's only remembering me telling her about them.
I tried explaining what the house looked like when Mom and Dad bought it, but it wasn't doing any good. She said, "Are there pictures of all this you're telling me about?"
"Yes, Mom there is."
I went upstairs to get the family photo album and show her what the house looked like when she and Dad bought the place.
When I took the album downstairs and opened it, I was totally shocked. More than forty pages of pictures had been ripped out from the old rope tie that once held them together. She asked where all the pages were. I didn't know what to say! All the pictures that could have helped remind her of her past were GONE. She cried when she recognized the album and saw all the pages torn out. "Who did this?" she asked. I was at a loss for words. I didn't know how to console her, other than to tell her that I'd try to find them.
I knew Mom hadn't ripped them out; her picture albums were her pride and joy. Beside that, they were upstairs in a dresser, and she hasn't been upstairs since I moved in. Good God, what's next?!
Labels: Alzheimer's, family photo album, Memories
Make me smile. Leave a comment...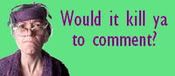 Comment Icon From
Paper Napkin