Happy Birthday, Two Feather!! Uncle Joe!! & Dennis!!!
I think I'm finally caught up with all the latest news.
I went to see my Uncle Joe yesterday. It was his birthday. He was in good spirits. All the nurses were surrounding him with flowers and balloons. He's adjusted very well to the nursing home. I'm so glad he did. I wish I could take care of him, too, but he understands that I have my hands full with Mom. He was happy to see me and really liked the new shirts, handkerchiefs, and winter hat I bought him for his birthday. Happy Birthday, Uncle Joe!
Today was Two Feather's birthday.
We spent a few hours at the Rogers Flea Market earlier in the morning and came home. I was exhausted because Mom was up all night last night, so I curled up on the couch and fell asleep.
Two spent the day cutting and splitting wood.
I didn't wake up until it was time to pick up Mom.
Poor guy didn't have much of a birthday. I felt horrible that we didn't celebrate in some way. He's such an understanding man. Not too many men in this world would do what he's doing; living alone, without his significant other, while I'm at Mom's taking care of her, cooking for himself, and maintaining both properties.
I appreciate everything he does and Mom does, too.
Happy Birthday, Two. Thank you for being you!!
Can't forget to mention that today is also my son-in-law's birthday. Happy Birthday, Dennis!
Labels: Happy Birthday, jdkiggins, Significant Other, Two Feather, Uncle Joe, Understanding
Make me smile. Leave a comment...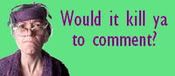 Comment Icon From
Paper Napkin