Surprise Phone Call--Mom's Getting a Visitor!
I received a surprise phone call from my oldest brother this evening asking me when would be a good time to visit Mom. I asked him when he was planning on coming up. He said, "I'm here now."
Needless to say, I was shocked. I didn't think he'd be visiting anytime soon with all he has going on in his life, and I certainly didn't expect a spur-of-the-moment visit because he has to drive nine to ten hours to get here.
He said he didn't know for sure if they were going to make it up. He had some sort of convention in D.C. and wasn't sure his wife would feel up to the rest of the trip, so he didn't want to call until he was sure they'd make it.
I told him that she's in Day Care Thursday and Friday, but he could visit Saturday and Sunday. He knows she's in bed early and knew that evening visits weren't a possibility. So we made arrangements for him to come on Saturday after I woke Mom, bathed her, dressed her, and made her breakfast.
He said Saturday morning would be great because he and his wife planned on leaving Saturday afternoon. I told him I'd call him Saturday morning when she was ready.
I didn't tell Mom he was in because I didn't want to ruin his surprise.
Labels: brother, jdkiggins, Surprise Phone Call, visitor
Make me smile. Leave a comment...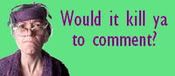 Comment Icon From
Paper Napkin