Therapy, Nurses, Mom's Exhausted
I woke up Mom at 9:00 yesterday morning and got her into the shower. Showers are so difficult because she fights me every time the word is mentioned. She hates water on her face. She hates water, period. She never learned to swim because she does not like water.
Showering was finished in 45 minutes, then she was dressed, ate breakfast and sitting in her chair waiting for the entourage of therapists and nurses. The first came at 10:30 just after Mom sat down. Of course there was no time for me to do anything because I had to be in the room, answering questions, filling out paperwork, listening to what the nurses said and did so I would know what I was supposed to do. The first nurse left at 11:40.
I had twenty minutes to get Mom lunch and ready for her next visitor.
The next in line was the home health respite person. She arrived at 12:05. By the time she went over everything with me concerning Mom's needs, filled out paperwork, and explained the program, it was 1:45.
My daughter had called Monday and said she was coming to visit this weekend. They were coming in for the Steelers game and she wanted to visit Saturday since she wouldn't be able to visit Sunday. We'd made tentative arrangements for 1:00.
She called at 12:45 but I didn't answer the phone because I was busy with Mom's nurses. Called her back around 2:00 and said she could visit for a little while, but I wasn't sure how long Mom would be in a visiting mood. She was already tired and agitated from the nurses being there.
Angel came for a little while and soon realized how tired Mom was. Angel talked with Mom while I made dinner. She didn't stay long because she understands the disease and how it affects Mom.
By 4:00 we ate, Mom was even more exhausted and she was ready to go to bed. Once again, when Mom's asleep, I'll grab whatever sleep I can. It didn't take me long to drop off.
This morning I got Mom up and started another day. Her home health nurse was coming at 11:30.
She was here until 1:00.
The rest of the day was a fiasco!
Labels: home health nurse, jdkiggins, Nurses, sleep, Therapists, visitors
Make me smile. Leave a comment...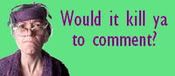 Comment Icon From
Paper Napkin