Kawasaki Mule and a Farmall Tractor—More Memories
Two Feather uses his Kawasaki Mule to run around the property and cut up all the fallen trees for firewood. As mentioned in my previous post, he also uses it to transfer the mowers back and forth from our house to Mom's. He also uses it to plow the snow off both driveways, to grade the driveways when they become rutted from the rain, and to drive back and forth through the woods to see me everyday. The Mule has nearly 700 hours on it from all the work he's done with it.
Today when we went through the woods to get to the bottom of Mom's driveway to pick up her garbage can, there was a strange loud scraping noise coming from underneath the Mule. When we got back up to our house, we cleaned off all the mud from the underbelly, cleaned around all the moving parts, and greased all the fittings. Seems once all the mud was removed the noise became louder. When he went to loosen the gear oil bolt so he could check the oil level in the gearbox, the bolt snapped.
Guess we'll be calling the Kawasaki dealer to come pick it up for service. Not only do we need to find out what the strange scraping noise is, we now need them to get the other half of the bolt out and probably rethread the opening and put a new bolt in.
Good thing we mowed Mom's grass when we did. Now we're going to have to figure out how to get the mowers to her place if the yards need mowed again. We were hoping this was the last mowing, but with the way the weather has been it may need done a few more times before winter sets in.
So much for things going smoothly. Two Feather and I always say that if we didn't have bad luck, we wouldn't have any luck at all. I'm getting really good at saying, "Oh well!"
Next stop…the auto parts store. Mom gave Two Feather and me Dad's old '51 Farmall tractor several years ago, before I started taking care of her. Dad's old tractor had been sitting in the bottom of the barn for years and didn't run. The gas tank still had gas in it that turned to gel and rust, and it needed new everything. Two Feather worked on that tractor determined to get it up and running again. He cleaned and scrubbed the inside of the gas tank until he got it cleaned out. He bought a new gas filter and installed that, and fiddled with the thing replacing one part after another. He wouldn't give up.
After working on it for about a week, one day I heard him yelling from the garage. I couldn't tell if he sounded angry or happy.
I remember the day so well. As I walked toward our garage, I heard him yelling, "Come on!" and then I heard the sound of the ignition turning. I ran up to the garage and by the time I got there, Dad's old Farmall fired up, sputtered and spit, and then I heard the noisy old hum of the engine, and watched Two Feather back it out onto the driveway.
Tears streamed down my face hearing the sound of Dad's old tractor running again. When I was young, I used to ride with Dad and when I got older I'd stand on the back bar and hang onto the seat. Hearing that old tractor again meant the world to me. It would have meant the world to Dad, too. I couldn't stop crying, yet I was laughing at the same time because I was so happy. My face held a beaming smile as the tears flowed..
"That's what it's all about, right there," Two Feather said.
"What?" I asked.
"That smile!"
Of course, being the sentimental fool I am, I cried harder. Then I ran in the house, grabbed the phone, and called Mom. I was so excited.
"Mom, you gotta here this."
"What?" she asked. "What's wrong? Why are you crying?"
"Hold on a second. Let me get outside where you can hear this." I ran to the driveway and asked. "Do you hear that?"
"Is that what I think it is?" She asked. "Is that Dad's tractor?"
"Yesssssss!" I said, and started crying again. "Isn't it wonderful!"
"Yes, it is, honey. I wish Dad were here to hear that. He'd be proud of Two Feather."
"I wish he were too, Mom. This is great. It's like having Dad right here, right now."
"Tell Two I said thank you. I'm so glad he got it running and I hope he gets a lot of use out of it."
Mom was as excited as I was and before we hung up the phone, she was in tears as well.
Two Feather got that old tractor running within only a week after we took it up to our house, and it ran for nearly a year with no problem. It didn't have the power it used to have, but it ran.
He quit using it because it needed the head gasket replaced and about the time it spewed oil I started taking care of Mom, so we invested in the Mule to use for snow plowing, the upkeep on the driveways, and something he could drive through the woods to visit me and take care of things around the house.
Looks like he'll be replacing that head gasket now and get the old tractor running again. We have to have something to get the work done around here. And as usual, he's just the man to do it. He's the only man around here.
Thank you, Creator, for sending him to me when you did. I don't know what I'd do without him.
****
On a different note, Mom's physical therapist came today. She was showing Mom how to transfer from the car more easily. She spent a good deal of time with that and then they came in the house and worked on those darn exercises Mom hates so much.
Mom was exhausted by the time therapy was finished. Her legs do seem to be getting stronger, though. So that's a good thing. I'm so glad that she's able to get back a bit more of her strength.
The therapist said she had a few more visits left with Mom, but she'd have to call me next week to schedule them.
Labels: Dad, Farmall tractor, jdkiggins, Kawasaki Mule, Luck, Memories, Mom, Snow, therapy, Two Feather
Make me smile. Leave a comment...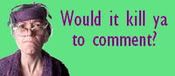 Comment Icon From
Paper Napkin