Mowing & Anxious to Read Into The Mist by Deborah Uetz
Today, we started working on filling in ruts on the path from my house to my Mom's. With all the rainfall we've had lately, the water gushes down the path and has begun to make the ruts larger. We got a good bit done, but we had to stop working on that so we'd have time to get the mowing done at Mom's house.
Two Feather loaded our riding mower on the wagon and put the push mower in the back of his Kawasaki Mule and we headed to Mom's house to mow her yard. I mow the small side yard, front area by the sidewalk, and the circle around her flowerbed with the push mower while he mows the rest of the huge yard with the rider.
I trimmed the trumpet vine on the porch, edged the sidewalk, and pulled weeds while Two Feather finished mowing.
We took the mowers back to our house and rode back down to Mom's to get the mail and paper and put the garbage out for collection. When we got back to Mom's house, a package was sitting on the table on the porch. I was pleased that UPS had delivered the book I'd just purchased. I've heard so much about Deborah Uetz's book,
Into the Mist: When Someone You Love Has Alzheimer's Disease
, I just had to buy it. Can't wait to start reading it.
This evening I called Angel to ask how Tim was doing. A few days after Mom was in the hospital, Tim went to the emergency room. He'd had a gall bladder attack. He's scheduled for surgery on the 11th. Angel told me they were coming in this weekend again because she has a job interview. She'll be leaving for back home on Sunday and Tim will be staying for his job interviews on Monday and Tuesday. They plan to move back to this area as soon as they acquire jobs here and sell their house in Mechanicsburg. YAY!!!
Anyway, Angel wants to visit Saturday with Mom. It will be Mom's 84th birthday! Angel thought we could take Mom out for lunch or early dinner. Two Feather and I had thought about that too, but we figured we'd wait to see how Mom is that morning. The home health nurse and OT nurse are coming Saturday, too. They won't be calling me until Friday night or Saturday morning to let me know when. So everything is sort of up in the air until I know when her therapy will be done. Either way, we'll make sure Mom has a great birthday.
Labels: Alzheimer's Disease, Angel, Deborah Uetz, Into The Mist, jdkiggins, Mom, Mowing, therapy, Tim, Two Feather, weeding
Make me smile. Leave a comment...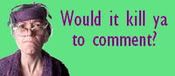 Comment Icon From
Paper Napkin