Come Glow With Us—Light Up Our Lives
October 1 at 8:00 PM
I'm inviting all my friends, relatives, and other caregivers to shine a light on Alzheimer's disease awareness. All you have to do is put up a string of Christmas light, turn on a porch light, or place an electric candle in your window today and turn them on at 8:00 PM.
Come Glow With Us is a campaign that was started to shed a little light on the thousands of primary caregivers who give of their time and their compassion, to ease the journey of those they love.
In many cases their work is unnoticed, unappreciated, unpaid.
They toil day after day, often in isolation, suffering along with their loved ones.
They are the invisible victims of Alzheimer and other long term illness.
The Come Glow with Us campaign began last year to mark the 100th anniversary of Dr Alois Alzheimer discovering the plaques and tangle traits of Alzheimer's disease.
In response to our invitation "glowers" lit up the night skies from California to Florida, Vancouver to Newfoundland, (23 states and eight provinces were represented) as well as Ireland, England, Scotland and Australia.
This October 1 - we ask that you help us make the glow even brighter.
Place the spot light on dementias and light up our lives, so we know you care about those who someday, may be caring for you.
All you need do is place one string of Christmas lights somewhere prominent, and plug them in at 8 pm October 1.
Every hour that night - new sets of lights will glow as the clock turns eight in each time zone.
Give us hope of a better tomorrow - show you care - Come Glow With Us.
Labels: Alzheimer's Disease, Caregivers, Come Glow With Us, jdkiggins, October 1
Make me smile. Leave a comment...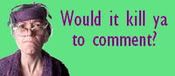 Comment Icon From
Paper Napkin