Surprise Visitors Bring Back Memories
This is something I haven't seen for a very long time. Horses in Mom's yard! Brought back some wonderful memories. What a joy it was to see them. I love horses. Here they are at the edge of the drive.
I was sitting at the kitchen table with Mom and something caught my eye through the window. When I looked out, I saw Barney and ? not sure what the other horse's name is, grazing in her flowerbed.
Just had to run upstairs and get my camera. I reached for the phone to call the neighbor to let her know her horses were out, but before I dialed, I saw her walking down the path with a lead and an oat bucket.
We had a nice chat. She's a very nice woman. During the conversation, I learned that she's a nurse at the very nursing home where my Uncle Joe is. Small world.
Mom loved seeing the horses, too. After the neighbor left, Mom and I talked about all the animals Dad raised on the farm. She didn't remember, but she enjoyed talking about it.
The physical therapist saw Mom for the third time today. She gave her a few more exercises to do to help strengthen her legs. Mom doesn't like exercises. She always used to say, "I'll walk around the yard tomorrow." She's saying the same thing about the exercises. "I'll do the exercises tomorrow." She doesn't remember that she's already done them twice each day. Maybe that's a good thing. :D
The home health nurse has been here twice so far. We're still waiting on the occupational therapist and home health aide to arrange appointments.
Labels: animals, farm, horses, jdkiggins, Mom, nurse, PT, Surprise, visitors, wonderful memories
Make me smile. Leave a comment...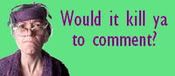 Comment Icon From
Paper Napkin