Happy Birthday, Mom!!!
I got Mom up at 9:30 as usual to begin her day. Instead of the normal, "Good morning, Mom, it's time to get up," I began her day with, "Good morning, Mom. Happy Birthday!!"
I'd been telling her all week that her birthday was Saturday, they even sang Happy Birthday to her at the Adult Day Care yesterday, but she didn't remember. She started her birthday off with a bang. Three trips to the bathroom and before she even had the chance to eat breakfast; we'd already cleaned her up and changed her clothes three times. I felt so bad for her. She becomes angry with herself, then becomes embarrassed, then feels bad that I have to clean her up. My heart wrenches when she has those few lucid moments and realizes that she has no control over her functions. I truly hate this disease Alzheimer's and what it is taking from my mom. If there is anything good about Alzheimer's disease, it is the fact that our loved ones don't remember the embarrassment; the next moment is a new moment and it's as if what happened before never happened—because it's lost from their memory.
Breakfast was scrambled eggs, fried potatoes, juice and coffee. She loved her breakfast and ate nearly half of it.
Two Feather came down after breakfast and gave her a card he'd made and picked wildflowers for her and gave them to her. She loved both the flowers and card.
She kept telling him what a nice person he is and how she's so lucky to have him in her life. He was thanked at least a half dozen times for the card and flowers. Mom just loves Two Feather so much. He always makes her smile and brightens her day.
While Two was there, I gave Mom the four new pair of pants we bought her. I'd written a poem for her, but she had a hard time reading it. It wasn't just the size of the type; she was having a difficult time figuring out the words. So I read it to her.
Happy Birthday, Mom © Joanne D. Kiggins 2007
Mom, when the Creator gave you life,
I'm sure he had a plan.
For you to be a mother and a wife,
and mainstay of this clan.
Through the years,
you've taught me right from wrong.
Through good times and tears,
you've helped me to be strong.
You've given me joy in my heart
and made my life so full.
I'm so thankful for being just one part
of your wonderful world.
You watched me grow from a little girl,
to the woman I am today.
Through your eyes I've seen this world
and we continue on our way.
Through the years you've listened, loved and cared,
showing me what was in your heart.
I thank you for all we've shared
and giving me that precious part.
I only hope over the years,
I've been the best I could be.
Making you laugh more than giving you tears;
being as good for you, as you've been for me.
So Mom, through the years and on this special day,
you've been led through the Creator's plan.
Over all the years, forever, and today
you've been the most precious part of this clan.
Yes, Mom we've laughed, we've cried, we've made time fly.
Best friends are we, you and me.
HAPPY BIRHTDAY MOM!!! I love you!
Mom listened to each word as I read and with each word more tears flowed. Knowing that she understood even part of what I'd read touched us all deeply. She reached for me and hugged my neck and said, "Thank you so much, honey. That was beautiful. Thank you for everything."
She thanked Two Feather again for the card and flowers, told him she loved him, and he excused himself to go off to work chopping wood again.
After all the tears were dried, I placed all the cards in front of her that she received in the mail. There was a card from her neighbors, her pen pal, my daughter Stacey & her family, a card from my oldest brother with pictures they'd taken of him and Mom and his wife and Mom during their recent visit, and a card from my other brother and his wife. We placed all the cards on the dining room table as we always do and we leaned the pictures against candleholders in the living room where she could see them everyday.
My daughter Angel called about noon and asked if they could visit about 1:30 or 2:00 and I told her that would be fine since the OT nurse would be gone by then.
The OT nurse came about 12:45. She asked Mom to show her how she gets up out of her chair in the kitchen and living room. Then they went to the bedroom for a demonstration of how she gets in and out of bed. Then, she was instructed to go to the bathroom to show the nurse how she gets in and out of the bathtub for a shower. Mom chuckled and asked, "With my clothes on?"
We all chuckled about that and the nurse explained she just wanted to see how well Mom does with her daily needs around the house. Of course, since Mom had been up for three hours, she was a bit more limber and performed all the transfers fairly well. The nurse asked if she was always able to move this freely and Mom said, "No. Not really. But I'm awake now."
The OT nurse said she'd be coming back a few more times but would have to call the insurance company to find out how many times Mom was allotted therapy and she would call to schedule her next visit next week sometime. She was finished and left at 1:25.
My oldest brother called, as I was ready to walk the nurse to the door. He and I talked for a few minutes, I told him how Mom was doing with all the therapy, and I gave the phone to Mom.
Angel, Tim, and Katie came at 1:30. They gave her a card and a new shirt.
Alzheimer's is such a thieving disease. It not only affects our loved ones, it affects the family members as well. We never did take Mom out for dinner because she was still having bathroom problems while Angel and Tim were there and she was worn out from the OT nurse being there.
We even managed to talk Katie into sitting on Mom's lap for a picture. Angel, Tim and Katie left about 3:15 when Mom said she was tired. We'll see what tomorrow brings. Maybe we'll take her out for lunch if all goes well.
Stacey called, but her cell wouldn't hold a signal so she said she'd call back tomorrow.
I heated up one of the meals I'd made on one of my "all-night" cooking sprees when Mom was roaming through the house a few weeks ago after nightmares. Those prepared meals made it really convenient to pull out two stuffed chicken breast dinners, with carrots. I had a package of sugar free cupcakes and put a candle in one for Mom's birthday treat. She thought that was a great idea. She was only able to take a few bites of the cupcake after eating dinner, so we wrapped it up to save it for tomorrow.
All in all, Mom's birthday went very well. She enjoyed the cards, and the visits from Two Feather and my daughter and her family, but in between each she still didn't remember it was her birthday, even immediately after opening her cards and gifts.
Mom was in bed and loudly snoring by 5:15. She'd had a busy and happy birthday!
Oh yes, Laura, I did tell Mom you said, "Happy Birthday." She said, "Tell your friend thank you."
By the way, yesterday, Two Feather spent the entire day working on the Mule and got it fixed. No need to call for service! And no, Laura, it's not a "live" mule. LOL
Labels: Alzheimer's, Angel, flowers, Happy Birthday, jdkiggins, Katie, Mom, Stacey, Tim, Two Feather
Make me smile. Leave a comment...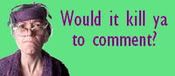 Comment Icon From
Paper Napkin