Little Things Matter The Most
Friday came and went too quickly. I took Mom to adult day care and went straight to my house to visit with Two Feather. We went to the post office to mail the bills I'd worked on the evening before and then we went to the store to pick up a few groceries. While we were at Wal-Mart we bought a few new releases to add to our collection of movies that we watch during the cold winter months.
When we got home, Two Feather was full of surprises. He built a fire in the fireplace and told me to lie on the couch and relax. I guess he could tell Mom and I had a long night. Without telling him, Two Feather always seems to know whether I was up most of the night or whether I was able to get some rest. He always encourages me to rest when I'm home even though that is our only time together.
Watching the flames surround the logs in the fireplace was hypnotizing. The heat from the fire warmed the living room and my heart knowing that Two Feather does whatever he can to make me comfortable when I get the chance to relax in our house. He knows that it doesn't take much to make me happy, and it's the little things that mean so much to me and matter the most.
I dozed off watching the fire and before I knew it Two Feather was waking me up at 1:00. He stood above me smiling and asked if I felt like eating. When I said, "Yes," he said, "Good, sit there. I'll be back in a minute."
It took him less than a minute to bring a tray into the living and set it front of me. He'd made buffalo tenderloin and fried potatoes while I was sleeping and had already slipped one of the movies into the DVD player for us to watch while we ate our lunch together.
Two Feather cooks his own dinner every evening since I'm not there to do it. He seldom comes to Mom's to eat because he doesn't want her to feel uncomfortable. Our meals together are far and few between.
The meal he made was wonderful for a lot of reasons. Buffalo is excellent if cooked properly, and Two Feather knows exactly how to cook it. The meal was also wonderful because I didn't have to cook it. Here someone whom I should be cooking for was catering to me. What more could I ask?
We watched the movie
Fracture
while we ate. I've always loved Anthony Hopkins. He's such an excellent actor. From
Silence of the Lambs
to
Hannibal
, the deep psychological parts he plays never cease to show what an amazing actor he can be.
Fracture
was no different and his part delved into the deep recesses of the mind once more.
When the movie was over, Two Feather and I talked for a bit and it was time for me to leave to pick up Mom.
Friday was a joy. It was one of the best days I've spent at home in a very long time--even if it was for only a little while. But…it's the little things that matter the most.
Labels: Adult Day Care, Anthony Hopkins, Buffalo, fire, fireplace, Fracture, little things, Mom, Two Feather
Make me smile. Leave a comment...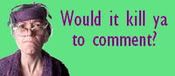 Comment Icon From
Paper Napkin