Visits and Smiles Are Priceless
My daughter, Angel, her husband Tim, and my granddaughter Katie came in again this weekend. Third visit in four weeks. It's great seeing them when they come in. Mom always enjoys their visits. They stay for an hour or so and leave when they know Mom looks and sounds tired.
They're looking at houses this weekend because they are planning to move back to this area. Their camper will be parked here at Mom's for a while until they find a house and move it to their new home.
Seeing her camper sitting in the yard makes me think of camping and the last trip when we took Mom to a Powwow over Labor Day weekend 2006. We've always included Mom in everything we do, and wanted to continue taking her places for as long as we could. We found out that weekend even short trips for a few days only added to her confusion and frustration from this horrible disease Alzheimer's. Staying in a camper only confused her more. It took a week for her to realize she was back home and things were never the same after that; Alzheimer's was stealing her mind bit-by-bit, memory-by-memory.
Now, we enjoy each day here on our wonderful piece of heaven in our own backyard. It's peaceful, quiet, melancholy, and beautiful. Mom is quite satisfied staying at home, even if most of the time she doesn't realize it is her home.
This weekend would have been a lovely weekend to go on a camping trip. The cool soft breeze, beautiful changes in the color of the trees, and sitting by a small brook or river sounds so inviting. We all look forward to the day when we're able to load up the campers and meet for a weekend rendezvous again, but we're all quite content enjoying the time we have with Mom in our little slice of nature here at home.
Katie is learning all sorts of new words. She's now asking, "What's that?" and "What's this?" as she points to different things. She says, "GG" and points to my mom. My grandchildren have called Mom 'GG' since they learned how to talk. It's much easier than saying great-grandma. My other granddaughter, Trinity, couldn't get out the "grandma" for me; it ended up coming out as "Bammaw" so that's the name that's sticking for me. Katie hasn't mastered it yet, but she's getting there.
None of us would trade the time we have with Mom now for anything. Just seeing the smile on her face when her granddaughters and great-grandchildren come to visit is worth the time we spend with her. Her smile is priceless and it will be imbedded in our hearts and minds forever.
Labels: Alzheimer's, Angel, camping, granddaughter, jdkiggins, Katie, Mom, Nice Visit, priceless, smile, Tim
Make me smile. Leave a comment...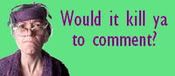 Comment Icon From
Paper Napkin