Another Good Day
This morning Mom woke up and complained of being tired and wanted to go back to sleep. I made her breakfast, but she didn't eat much. Her appetite is less and less these days. After breakfast we went into the living room and she looked through a few magazines that my friend Betsy sent to us. She loved looking at the old pictures. I read her a few of the stories and she decided she wanted to color a picture. Before Alzheimer's, you'd only find Mom coloring when my daughters were young, but she sat for about two hours coloring while I ran back and forth doing the laundry and checking on her.
It was such a beautiful day today I couldn't resist talking Mom into sitting on the porch for a while.
Mom enjoyed sitting outside talking in the fresh air and warm breeze. Her dog and cat stayed close beside her feet. The cat is an outside cat, but always comes around for attention when we come outside. Mostly he comes to the porch when he sees us because he thinks he's going to get fed. When he sniffed his empty bowl and flopped down on the porch by Mom's feet, he looked a bit disappointed, but his ears perked up when Mom reached to pet him.
Angel, Tim, and Katie came over again today and visited for about an hour. They sat outside with us and told us about the houses they visited and decided to make an offer on one of them.
Katie was as cute as ever playing with her Elmo doll and walking over to pet Mom's dog and giggling when he licked her hand.
Mom ate a fairly good dinner tonight. It was the most she'd eaten all weekend. Katie loved the roasted chicken, stuffing, baked sweet potato, and broccoli.
After the kids left, Mom said it was time for her to go to bed. She said she was "full and tired" so we went through our bedtime routine and by the time she was dressed for bed she was exhausted. She said she was looking forward to going back to "club" tomorrow. Club is what she calls the adult day care. Mom's never been an early riser, but she never seems to complain when it's time to get up for club. She enjoys the activities they have there. I'm so happy that she thinks of it as a senior club and doesn't realize it's a day care for the elderly. On days she's at day care, when I'm not running errands, grocery shopping, or cleaning the houses, it's the only time I'm able to get any restful sleep or relaxation. Both Mom and I benefit from this respite care.
Labels: Alzheimer's, Angel, Katie, Mom, relaxation, Respite Care, sleep, Tim
Make me smile. Leave a comment...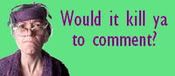 Comment Icon From
Paper Napkin