Good Day for Sitting By the Fire
Sunday night Angel came in about 8:00 PM and stayed the night with me at Mom's house because she had to meet the house inspector in the morning and she had an appointment in Pittsburgh in the afternoon. Mom was asleep by the time Angel arrived so she didn't get to see her. While I got Mom up to get ready for day care, Angel was getting dressed to leave. We figured it would be better if Angel didn't go in the kitchen while she ate breakfast because it would have confused Mom. We went on our way and Angel waited for me to come back. Two Feather and I followed her to the house to get a short tour while the inspector was doing his work. It's a very nice home with beautiful hardwood floors and a nice yard, and it's only eight miles from our place. After her appointments, Angel headed back home to Mechanicsburg.
She's moving closer to home and Stacey just moved back to Alabama. :( One of these days I'll get to see Stacey's house down south. Stacey called today and said she got a job. She starts tomorrow. She sounded really excited about it. I can't wait to hear from her after she's there a few days to see how she likes it.
When Two Feather and I got home from seeing Angel's house he made a fire in the fireplace. The crisp cold air seemed to go right through us while we were walking around outside. It was a good day for staying indoors and sitting by the fire.
We made buffalo steaks again today for lunch and sat in the living room and watched TV while we ate. The day seemed to fly by so quickly.
I picked Mom up from day care and they told me she complained she had a stomachache about fifteen minutes before I got there. She was having a difficult time in the bathroom as well. The beautician came today and styled Mom's hair. She does such a beautiful job on Mom's hair. Next month it will be done the Monday right before Thanksgiving, so Mom will look great for the holiday.
On the way home, Mom said she was hungry. I'm glad all I had to do was heat up dinner when we got home because her appetite doesn't last long. Since Two and I had eaten such a big lunch, I wasn't hungry, but Mom sure enjoyed the buffalo steak, baked potato, and squash I brought home for her. Two Feather came down and sat at the table and talked with Mom and me while she ate. She didn't eat a lot, but at least she ate some and she thanked Two Feather for making such a delicious meal.
He went home shortly after and Mom went to bed. I went to bed once Mom was asleep.
Labels: Angel, Buffalo, house, jdkiggins, Mom, Stacey, Two Feather
Make me smile. Leave a comment...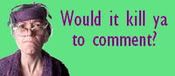 Comment Icon From
Paper Napkin