Now You See It—Now You Don't
Two Feather's first project today was to cut up the dead tree that fell in the garden area at Mom's house. I believe I showed the picture of it before and said that would be one of his next jobs. Well today was the day.
It didn't take him long once he started. While he cut, I picked up the pieces and loaded the back of the mule with the wood. It wasn't a very big tree but it did fill up the back of the mule by the time he was finished.
We took that load up to our house, I made us something to eat, and we went back down Mom's to get a few more pieces of the oak tree.
I wasn't exaggerating when I said the pieces of wood from the oak tree were nearly three foot in diameter. Here are just a few of the cuts from the center of the tree.
Here's a shot of him splitting one of the larger pieces above with the maul and wedge. He might be tall and skinny, but he's strong.
Two Feather split both of these pieces today. They filled the mule bed, and between the oak and the other tree he cut up, they filled his splitting area at our house.
After all the splitting and hauling, we walked through the woods looking for more downed trees on the property. We counted at least six more that we hadn't seen before. This one will probably wait until spring. He has at least a dozen trees to cut, split, and move out of his way before he can get to this one.
This big tree fell during that last storm we had and it covered both his paths through our large garden area at the lower end of our property.
We're always watching for feathers as we walk. Found a few today. This was interesting to see on the path as we walked home.
It's a deer print…It measures 4 ½" long. This buck is huge! We know it's a buck because we've seen him around here for a few years, but I've never been able to get a picture of him before he runs off. His rack is huge, too! Last year we counted at least 10 points. He was in the yard just before dark tonight, but he was chasing two doe and I couldn't get a shot of his rack. Last year, Mom saw him standing in front of the barn and thought he was a horse. He is enormous. I'll get a picture of him yet!
Mom was exhausted as she always is when she got home from day care. She ate a little more for dinner than she did last night and stayed awake until after she finished. I found a few really cute craft projects at the store the other day. This weekend we'll probably work on them. She loves doing craft projects, so that should help keep her busy for the weekend. She gets bored if I don't keep her occupied the entire time she's awake.
Maybe while Mom's working on those crafts I'll find some time to finish writing the book reveiws for the books I've finally finished reading. I've managed to read four books in the last two weeks. My "to read" stack is getting smaller. Only five more to go!
See you all soon. Happy November!
Labels: book reviews, Books, buck, craft projects, deer print, Fallen Trees, jdkiggins, maul, Mom, oak trees, split, Two Feather
Make me smile. Leave a comment...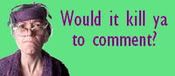 Comment Icon From
Paper Napkin