Visit With Uncle Joe & Take Out Dinner
Turn Your Clocks Back
This morning when I got up, I decided it was a good day to visit my Uncle Joe at the nursing home. I don't get up to see him as often as I used to since Mom finds it more and more difficult to walk distances any longer than 20 feet without tiring out. The walk from the car to the front entrance is three times that long, and the walk from the front entrance to the elevator that takes us to the fourth floor is again twice that long. By the time we reach the sunroom where Uncle Joe sits and reads the daily newspaper, Mom is exhausted.
Uncle Joe wasn't in the sunroom when we arrived; he was in his room. Nurses were taking care of a patient in his room, so we couldn't go in and the nurse told Joe we were waiting outside the door.
I had gone to the nursing home to visit twice to see Joe without Mom along, while Mom was at day care, because she was just learning to use her walker. It had been two months since I took Mom with me. He was happy to see us when he came out of his room.
He wheeled himself down the hall to the sunroom and Mom walked with her walker to the seat I'd placed at his table. We sat and talked for nearly two hours before Mom said she was tired and wanted to go home. During the visit, Mom kept saying, "I hate this place." She gets upset listening to some of the patients loudly repeating sentences over and over again.
I always get a bit depressed after visiting with Uncle Joe because he used to be so independent and was able to come and go as he pleased when he lived in his own apartment. Had I not been taking care of Mom at the time he became ill, I would have moved him into my house and took care of him. Under the circumstances, I couldn't take care of two elderly loved ones and he knew that. He even told me he was better off in the nursing home because I have my hands full with taking care of Mom and he knew he could no longer live alone.
He's adjusted very well in the year and a half he's been there. Because he is given his medications at proper times and he eats three well-balanced meals a day, he is doing quite well. Still, I hate the thought of him being there.
Our visit ended about 3:30 and I hadn't taken anything out for dinner so I stopped at the Kentucky Fried Chicken to bring home dinner. Mom said, "Make sure you get something for Two Feather. He has to eat, too."
I said, "Okay, I'm sure he'll like that."
"Maybe he'll come down and eat with us," she said smiling.
When we got home, I called Two Feather and told him we stopped, brought dinner home, and Mom wanted him to come down and eat with us. As I mentioned before, he seldom eats dinner at Mom's house, but when she invites him, he never disappoints her. We ate dinner and Two Feather left to go home since he knew I'd be getting Mom showered and dressed for bed.
All in all, it was a nice day, a nice dinner, (especially since I didn't have to cook it) and Mom was happy to crawl into bed by the time the day was over.
After Mom was in bed, I ran around the house and turned the clocks back an hour. I always do this before I go to bed so the correct time is on all the clocks when we wake up. So for those of you who use Daylight Saving Time, don't forget to turn your clocks back tonight…or in the morning if you're a procrastinator. :)
Tomorrow I plan to finish writing the book reviews for the books I've read. You'll see them as soon as I complete them.
Labels: Daylight Saving Time, jdkiggins, Kentucky Fried Chicken, Mom, Nice Visit, nursing home, Two Feather, Uncle Joe
Make me smile. Leave a comment...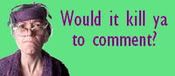 Comment Icon From
Paper Napkin