Short Fiction Contest
I'm a little behind at catching up with my writer friend's blogs and I'm glad I did some reading today. Seems fellow Pennsylvanian and friend, Jason is holding another short fiction writing contest at his blog,
Clarity of Night
.
Jason does a wonderful job keeping writers inspired and this contest is no exception. He's using a beautiful picture for your writing inspiration. Go check out his contest.
I'm inspired and I found it just in time; there is still a week left before the deadline. Now we'll see if I'm as good at whipping out the words under deadline as I am at weilding the whip at the freelance contest participants. Good luck everyone!
Labels: Clarity of Night, Jason, jdkiggins, Short Fiction Contest, Writing
Make me smile. Leave a comment...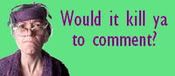 Comment Icon From
Paper Napkin