Dinner Cooked, Wood Cut & Split & I'm Getting Older
Today I used a suggestion from
Nancy
and used the oven to help heat the house. No, not an empty oven with the door open, that's dangerous, a closed oven with a stuffed roasting chicken inside. Great idea, Nancy!
Mom's oven is really neat. It has two timers on it: the regular timer for baking cookies and such, and this awesome 'start' and 'stop' timer for cooking. I stuffed the chicken last night after she was in bed and put it in the refrigerator. This morning before we left, I set the start timer for 2 PM, the stop timer for 4 PM, shoved the roasting pan in, and closed the door. It was wonderful. When we walked in at 4:30, the kitchen was nice and warm and the smell of chicken was in the air. Dinner was cooked, and all I had to do was dish out our meal and add a veggie.
I wish Mom could have smelled the chicken when we came in, but she lost her sense of smell years and years ago when I was still in high school. I'm glad she can still taste food, though. She loved the meal and ate a decent amount tonight.
Two Feather worked in the woods again today. Fallen trees blocked another path he'd made several years ago.
It didn't take him long to cut up these trees once he put a new chain on his chainsaw. He pulled the trees out onto the path after branching them. We sat on this tree for a few minutes taking in the beauty of the woods. We watched a few deer walk by as a light sprinkle of rain turned to the first snowflakes for the year.
I helped load some of the smaller pieces of wood onto the Mule, but I'm not much help when it comes to the big ones. I mostly watched and enjoyed the atmosphere today. The Mule was full by the time he cut up both trees and split all the wood.
I think tomorrow we'll take the day off…maybe. Two Feather said he has something in mind to do instead of work. Tomorrow is my birthday, but I'd just as soon let it go by without notice. Mom doesn't even know what month or year it is, let alone that it's my birthday. For years I would take Mom out to lunch on her birthday and she would take me out on mine and we'd spend those days shopping together. We still celebrate Mom's birthday, as you saw in an earlier post, but the last few years my birthday has come and gone without her knowing, so there's no sense in mentioning it this year either.
For those wondering, I'm past the big 50. In a few short hours, I'll be 55. :D
See you all tomorrow my friends!
Labels: Happy Birthday, jdkiggins, Mom, Stuffed Roasted Chicken, Two Feather, wood split
Make me smile. Leave a comment...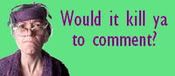 Comment Icon From
Paper Napkin