Furnace is on the Fritz
Mom's furnace is on the fritz. Sometime during the night it quit working. About 3:00 AM I woke up chilled to the bone. I went down in the basement and checked the circuit breakers. They were fine, so I pulled the cover from the furnace and pushed the reset button. The furnace kicked on but it only ran for about 10 minutes and shut off. When I pushed the reset button again, it did nothing.
I peeked into Mom's room and noticed she had the covers pulled up over her head. That told me she was cold, so I pulled another blanket from the closet and put it over her. She continued to sleep peacefully until I woke her to get her ready for the day care.
Upon arriving home, I called the gentleman who maintains her furnace every year. He said he wouldn't be able to come out until this evening because he had several 'no heat' calls before us, and a furnace installation to do. Tom's been my mom and dad's furnace maintenance man for more than 20 years, and since Dad died he always makes sure he takes care of Mom's furnace at the beginning of his busy season. Last year, we had him put a new furnace in because the old one was on its last leg. Within a few minutes of my call, Tom called back and said he was on his way. He said he has a soft spot for widows and especially Mom because he liked my dad so much.
He arrived at 8:30 and performed the usual maintenance of changing the nozzle, the fuel oil filter, and the furnace filter. The furnace fired up, ran for about six minutes, and quit. He bled the line to get the air out and still the same thing. After a few more adjustments, the furnace fired up and ran even after he left at 11:00. I went to my house, Two Feather and I ran a few errands, and went to Mom's around 2:00 to make sure the furnace was still working. When we walked in the house, we knew it had shut off after he left and not come back on. The thermostat was still at 62 degrees.
I called Tom again. He had just finished with a call and said he'd come right over. He was here within 20 minutes, pushed the reset button, and left again to go to his parts supplier to pick up a new module for the furnace. He was back again by 3:10, installed the new part, and wouldn't you know it, that part was defective, so he left again to get another one.
In the meantime, I left to pick up Mom at day care and Two Feather sat outside on my mom's porch waiting for Tom in case I wasn't back in time. I told Mom that Tom had worked on the furnace most of the day and he would be back to fix the furnace by the time we returned home.
Turned out Tom called me on my cell phone just before I pulled up to the house. He said they didn't have another module in stock and it would take two days to get it in. He was on his way over to drop off heaters to keep the house warm for Mom until the part comes in. For him to make my mom's house his first priority was kind. To come back within hours pushing all his other calls later when I called again was kind. To bring heaters to make sure Mom was warm…that goes above and beyond in my book.
Tom knows Mom has Alzheimer's and when he walked in with the heaters, he said, "Hi Mrs. Kiggins, how are you?" "I'm fine. I don't think I know you," she said. Tom was so sweet. He took his hat off and said, "Maybe with my hat off you'll know me." I could tell Mom still didn't know who he was and so did he, but she said, "Yeah, I think I remember you."
Tom set up the heaters around the house and left. The house was still chilly because the heaters hadn't been on very long and Mom said, "It's cold in here. You'd better call the furnace guy and have him fix that thing. I don't think it's working." So much for Tom taking off his hat for her to recognize him, she didn't even remember him being there two minutes after he left. LOL I told her the house would warm up as soon as the heaters ran a little longer.
I put an extra blanket on her bed just in case. By the time we ate dinner and she dressed for bed her room was very warm. It didn't take her but a few minutes to fall asleep.
Tonight is Monday night Steelers football, and since Mom is in bed sleeping I'll actually get to watch a game for a change. Haven't watched one since I moved in with Mom because she's not a real fan of football. She used to sit and read or crochet when Dad watched the Steelers. Everything time he'd yell and cheer when they got a touchdown, she'd jump in her chair and say he 'scared the living daylights out of her'. I root and cheer just like Dad used to, so I figured it's best if I don't turn the games on when she's in the room. We need all the living daylights we can get. ROFL
Don't think I'll be getting much sleep for the next couple nights. I'm not a fan of electric and oil heaters running, so I'll be up and down all night checking them to make sure they're not heating anything except the rooms. Never can be too careful.
Labels: Alzheimer's, football, Furnace is on the Fritz, heaters, jdkiggins, Mom, Steelers, Tom, Two Feather
Make me smile. Leave a comment...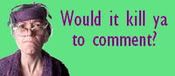 Comment Icon From
Paper Napkin