The Day Wasn't All Bad--Getting Good At Saying Oh Well
Inquiring minds asked how my birthday went. :) Well, I'd like to say I had a wonderful birthday, but I'm not a liar. Had it not been for the migraine I woke up with, it probably would have gone a lot better. I'm not a happy camper when I have a migraine. When my head hurts, I do not function well at all, in any aspect. I had an auto accident four years ago, which required cervical spine surgery on my neck. I've had neck pain ever since. Once the neck pain begins, it radiates and becomes a full-blown migraine. The vice-like grip on my temples was unrelenting all day. But the day wasn't all bad.
I called Two Feather when I got up as I do every morning. That's my way of letting him know I'm still among the living and the day has begun. He told me to be careful taking Mom to day care and getting home, and we hung up. No mention of my birthday. I thought that was odd, but I figured he was waiting until I got home.
He had a fire going in the fireplace when I got home and he made me breakfast. I knew this was just a small part of his grand scheme for the day. No 'Happy Birthday' from him yet. No big deal. It didn't really bother me; I knew he knew it was my birthday; he always teases me and says your birthday is the 11th right? Yeah, right, I say. He's been wishing me happy birthday since his birthday passed in September. Oh well, he's already wished me happy birthday probably 38 times anyway.
I went into the kitchen and thought about making a cake. Eh, instead I figured I'd make a batch of chocolate chip cookies and use the two new cookie sheets I bought last week. Bake for 8-10 minutes at 350 degrees and we'd have some really great tasting cookies as soon as they cooled. Wrong! Within five minutes of baking, I could smell the burnt bottoms. I won't say what new name I gave those cookie sheets, but it wasn't Echoware and it certainly wasn't 'no stick'.
By this time, the vice-like grip on my temples had encompassed my entire head. I was in no mood for cookies, especially burnt ones.
Two Feather heard me in the kitchen, came in, and asked what was wrong. Oh nothing, I said. I made cookies and their bottoms are burnt, and they're not even finished baking. Guess I should have made a cake, maybe I could have burned that too, but of course I should wait to make that on the 11th, when you tell me happy birthday, right?
He wrapped his arms around me and hugged me so tight. I didn't tell you happy birthday yet did I? No, I said. We've had a lot on our minds lately. I know the breakfast and fire was all part of it, but…
But I didn't tell you happy birthday. I'm sorry I didn't say it when you called this morning. I know it's your birthday. I don't know why I didn't say it.
It doesn't matter, I said. Somehow I knew this birthday should go by unnoticed. I even wrote that in my blog yesterday. It's just another day and there's too many other things to worry about.
He grabbed a cookie off the cookie sheet and said these aren't that bad, have one. Happy birthday, honey.
He grabbed a few more cookies and asked me to go in the living room and lie down to try to get rid of the migraine.
The phone rang. He knew it would be one of my daughters and before I answered he smiled and said, happy birthday. I knew it wouldn't be Stacey because she told me last week that she didn't have cell phone power where she works. I didn't think she'd be calling until evening. Besides, I got a card in the mail from her the day before my birthday along with a half dozen cards from some of my friends. I called her on the 6th and thanked her for the card and wished her stepson, my grandson Deandre happy birthday at the same time. Oh good, you got it already; that saves me from having to call tomorrow, she said joking.
It was Angel who called when the phone rang and she asked what I was doing. I said I was lying on the couch watching the news trying to get rid of a headache. She asked if I could baby-sit Katie for a few hours next Monday when she comes in for another appointment. Sure, I said, and she said, okay I'll talk to you later and we hung up. I knew she had it in mind to wish me happy birthday, but with her traveling four hours for interviews, trying to sell her house, packing, and trying to make arrangements for everything long distance, it slipped her mind. Oh well, she'll call back when she has time.
I curled back up on the couch, pulled a blanket over my head, and tried to go to sleep mumbling, "Oh well, I did say I wanted my birthday to go by unnoticed." Then I cried.
I couldn't go to sleep so I picked one of our movies to watch. Two Feather slipped the VHS into the player and hit play. The movie had black streaks all through the middle of it. We tried another movie; the black streaks were still there. I ran the head cleaner in the VCR and tried the movie again. Still black streaks. Oh well, guess the VCR needs to be replaced.
We watched TV for the remaining time I had at home. I picked up Mom and the nurse at the day care told me I looked tired. I told her I had a migraine and was going to spend the rest of my birthday in bed. She wished me happy birthday. Mom asked whose birthday it was and I said mine. She said, happy birthday, honey, I didn't know today was your birthday. I said, I know Mom, oh well, it's just another day. Her knowing was there and gone within seconds. Oh well, I knew she didn't know the date or that it was my birthday; I didn't expect her to.
I made her dinner and washed her and dressed her for bed making sure I let the heater run in her bedroom for a while so she would be warm.
The part for the furnace was supposed to come in on my birthday too. I knew Tom had a furnace installation so didn't think he'd be coming to fix our furnace Wednesday. The part probably didn't come in until late afternoon anyway. Oh well, we have heaters.
Angel called about 6 PM singing happy birthday. She said she meant to tell me earlier, but she'd had so much on her mind trying to get things arranged, it slipped her mind. Do I know my daughters well, or what? ;) Love you, honey. Thanks for calling back.
Stacey called and wished me happy birthday right after I hung up from talking to Angel. Love you too, Stacey. She said I sounded tired. I laughed and told her what the day had been like, that I was still fighting this migraine, and I was going to bed. And I did!
So there you have it. That was my birthday in a nutshell. The breakfast was great, the fire was soothing, the cookies weren't that bad, Mom's house was warm from the heaters, and everyone who matters in my life did end up wishing me happy birthday. And that includes all you wonderful caregiver friends, the AW group, and all who sent me cards. Hugs to you all, you know who you are.
If you noticed, on the 4th I mentioned I'd tucked Mom safely and 'warmly' in bed, and during the night the furnace stopped working. On the 6th I wrote that I'd just as soon my birthday go by without notice and, well…you read the story. LOL
One thing I do know for sure, I'll be very careful what I write in my blog from now on. You never know when the Creator is going to take you serious.
By the way, I still have my migraine. And oh yes, while I'm in the mood, She…i…la, I hope you're enjoying 'watching me' from work and home, though I can't imagine, since your rude October 1 comment, why you've logged in and read my blog 57 times since I make you SO sick. (Yes, I have all the dates and times logged from each computer) Did you bother to tell your husband that his mother's furnace quit working? Did either of you bother to call to make sure she was okay? Of course not. Nice of you both to show so much concern for my mother! Talk about sick! Oh well!
Sorry I didn't post this earlier, you would have been able to read it at 8:01PM when you logged in from home. Guess you'll see this when you log in.
Have a wonderful day.
Labels: Angel, Birthday, migraine, Mom, sick, Stacey, Two Feather
Make me smile. Leave a comment...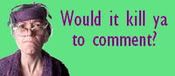 Comment Icon From
Paper Napkin