Alzheimer's Plateaus and Declines
Alzheimer's is the most puzzling disease I've ever seen. As loved ones progress through the stages of Alzheimer's disease, they become more and more dependent on the caregiver to take care of their needs.
There's a well known phrase with Alzheimer's caregivers that reminds us that we can share our experiences, but each person with Alzheimer's is affected differently than the next: "When you've seen one person with AD, you've seen one person with AD." Every person with AD progresses differently and at his or her own rate.
There is no standard situation for each stage of the disease. One loved one may continue in one stage, plateau in that stage for years, and decline swiftly to the end stage within months. Other loved ones may never reach the end stage and are saved the progressive decline to the end.
I've learned to deal with any situation that arises in Mom's journey with Alzheimer's, however; the fluctuation of abilities (the back and forth) from one week to the next is always puzzling. For months Mom has been on a plateau where she's been unable to dress or bath herself. She was unable to recognize what each piece of clothing was for, let alone figure out how to button buttons. She needs step-by-step instructions on how to wash, and even then she's unable to muster the coordination to accomplish the task. Her long-term memory is gone and her short-term memory went along with it.
Yesterday, she actually remembered I had a headache over the past few days and asked if it was gone. She also buttoned her shirt for the first time in three months. If someone had come to visit her yesterday, she would have appeared 'fine' in the respect that she was able to hold a conversation as well. Her seemingly enhanced cognitive state continued throughout the day. She helped set the table for dinner, helped dish out her meal, and she even washed the dishes when dinner was over.
I sat in amazement as I watched her, knowing she was having a 'good day', and wondering how long it would last. When it was time to get ready for bed, she buttoned her own pajama top and said the words she used to say to me every night: "Thank you for taking care of me, honey. I love you and I don't know what I'd do without you."
As I sat in my room after she was asleep, I felt as if I'd been thrown backwards into this awful disease. I was thankful for the abilities she mustered for the day, but these back and forth cognitive scenarios can really screw up the 'prepared' mindset we caregivers try to maintain. We need to keep reminding ourselves to be prepared for the next decline, even though we cherish the good days our loved ones have.
This morning we were right back to where we were Friday; Mom didn't recognize her clothes, her room, her house, and she was having a difficult time maneuvering from a sitting to standing position. Once she got moving, it was slow and shaky, even with the walker.
I truly hate Alzheimer's and what it does to our loved ones. The only thing this disease has reinforced in my mind is the one thing I've tried to live by my entire life: Live one day at a time and live each day as if it is the last—because we just never know what the next day will bring, or if it will come.
On a different note: It's Steelers Sunday. I think I'll turn on the game and see how well they beat the Browns. :) Maybe I can even convince Mom to watch the game.
Labels: AD, Alzheimer's, Caregivers, decline, jdkiggins, loved one, Mom, plateau, Steelers
Make me smile. Leave a comment...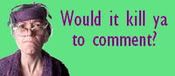 Comment Icon From
Paper Napkin