To Stef
I was sad to read that Stef, at the young age of 20, lost her Nonna yesterday to Alzheimer's. Stef always spoke of her grandmother with such love and devotion. It was heartwarming to read Stef's posts about how close she and her grandmother were.
Know that your Nonna knew you loved her and she's proud of the close relationship you two had. My thoughts and prayers are with you through this difficult time, Stef.
Labels: Alzheimer's, jdkiggins, Nonna, prayers, Stef, thoughts
Make me smile. Leave a comment...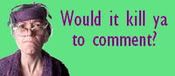 Comment Icon From
Paper Napkin