First Light of Day
"Restless Dawn" Short Fiction Contest
Jason
had this great short fiction contest going on but I missed the deadline. Lately, more of my writing has been nonfiction and this picture was so inspiring, I thought I'd post what I'd written in the few minutes I had last night after Mom went to bed and before I fell asleep. It's not fiction, but at least I wrote something for a change.
P.S. I might add that I've never claimed to be much of a poet. :D
First Light of Day
by Joanne D. Kiggins
Each evening as the sun goes down and I tuck you into bed.
I wonder how your day has been and what goes through your head.
Each day keeps getting harder to keep you occupied.
Yet you find so much comfort with me by your side.
Your memory continues to fade with each passing day.
Still, the words "I love you" we always manage to say.
If I had one wish for you as Alzheimer's takes your life.
It would be that you're truly not aware of your daily strife.
I do not want to think of the day you won't be around.
When the monitor's turned off, replaced with silent sound.
Each night I say "I'll see you in the morning" and then I go to pray.
Hoping that when I wake, you too will see the first light of day.
Labels: Alzheimer's, Clarity of Night, First Light of Day, Jason, jdkiggins
Make me smile. Leave a comment...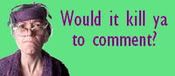 Comment Icon From
Paper Napkin