Happy Birthday Trinity!
I can't let the day go by without wishing my oldest granddaughter a very Happy Birthday. I called and talked to her today and she told me she had a fun birthday. She had cake and ice cream and opened a lot of gifts.
She's grown up so much since she stayed with me while Stacey was in Korea. She gets more beautiful every year.
Happy Birthday, Trinity. I love you!
Labels: granddaughter, Happy Birthday, jdkiggins, Stacey, Trinity
Make me smile. Leave a comment...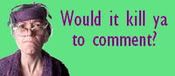 Comment Icon From
Paper Napkin