Christmas Shopping, Christmas Cards and Who's …?
Mom received several cards yesterday. She didn't know who they were from.
The conversation went like this:
Look Mom, here's a card from Bill.
Who's Bill?
He was the best man at your wedding.
Why can't I remember that?
Here's one from Alma.
Who's Alma?
Ardis' sister.
Who's Ardis?
Boot's mom.
Who's Boots?
Bob's wife.
Who's Bob?
Bob is my brother, your son.
It's heartbreaking to know that she's fading away day by day. Bob just called this weekend, too. But that didn't ring a bell either.
Today she received two more cards.
Here's a card from Larry.
He's a cousin, isn't he?
Yes, Mom. He's your cousin.
Here's one from Kary.
Who's Kary?
Bob's daughter.
Who's Bob.
We went through all the cards and the same conversation all over again. By the time she asked, "Who's so and so" for the fourth time, she literally laughed so hard she had tears in her eyes. After we went through the cards again, we were both laughing so hard she put the cards aside. Then she said, "It's nice of these people to send cards whoever they are."
I pulled out a box of Christmas cards and got ready to start addressing them to those who sent to her. She said, "I'm not sending cards to people I don't know. What are these cards for anyway?"
I set the box of cards aside. My heart just wasn't in it.
Two has been trying, but even with all the shopping and wrapping I still can't seem to get into the Christmas spirit. Gee, I wonder why. It's difficult trying to celebrate a holiday when Mom seems to have lost the concept of everything. Thanksgiving came and went and she had no clue what Thanksgiving was. I don't think Christmas is going to be much different.
On another note: The 12 days of hell weren't all bad. My daughter, Angel, visited both weekends and we enjoyed spending time with her, Katie and Tim. Katie is growing so fast and picking up so many new words. It's always a joy to have them visit and Mom enjoys watching Katie play with the pillows on her couch and look through magazines.
On December 7th, Two and I celebrated our fifth year together by going out for breakfast, and we spent the day shopping. Two saved his money from his last four wood sales and managed to get all his Christmas shopping done for his six kids and seven grandchildren and his parents. We also bought presents for my daughter, Stacey, her husband, Dennis and her three kids, Trinity, Quenton, and Deandre, in Alabama. We wrapped everything and sent all the presents Monday. I still have to buy for Angel, Katie and Tim and Mom and Two. I probably wouldn't have all Stacey's family bought for already if it wasn't that I had to mail everything.
Trinity surprised me with a phone call last week. She sounds so grown up on the phone. She wanted to know what size shirt Two wears so she could get him something for Christmas. I thought that was so sweet.
I've yet to visit Stacey and the kids in Alabama and I still haven't seen their house. It's not a trip I can take Mom along on. Two never gets to see his kids either, unless they come here. The trip to see them is too much for Mom as well. He sacrifices so much to support me in taking care of Mom. He's yet to see two of his grandchildren.
Oh yes, in case you lost count, between the two of us, Two and I have eight kids and 10 grandchildren and one on the way. We're getting old! LOL I just hope that he and I are not too old to make the trip to visit everyone when this journey is over.
One more thing: I did manage to get a few books read in the wee hours of the morning when Mom was up and down. So, I'll be posting a few more book reviews as soon as I type them up from my handwritten versions.
And...Yay! The furnace is finally fixed.
Labels: Angel, Cards, Christmas, Christmas shopping, Deandre, Dennis, Furnace fixed, grandchildren, jdkiggins, Katie, Mom, Quenton, Stacey, Tim, Trinity, Two Feather
Make me smile. Leave a comment...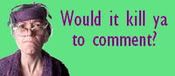 Comment Icon From
Paper Napkin