Busy Four Days
I haven't posted since Saturday, so I figured I'd better catch everyone up to speed. Sunday Angel, Tim, and Katie moved their belongings into their new house just eight miles from me. I took Mom and Two Feather over about 11:00 AM so Two could help them carry things in. Mom sat on their couch and colored while everyone was walking by carrying furniture and boxes.
Angel asked me to bring my Pack N Play with us so Katie could lie down for her nap because they wouldn't have time to put the crib together. Tim's mom fed her lunch and I put her down for her nap. Within minutes of me singing to her, she was sleeping.
Shortly after that about 1:10 we had to leave because Mom was tired. Most everything was moved into the house by then anyway. They were going to get something to eat and go back over to Tim's Mom's house to watch the football game. Angel said they weren't going to worry about putting things away yet because she was leaving to go back to Mechanicsburg to finish out her job and they weren't staying at the house until tonight. Probably just as well Mom got tired since I wasn't feeling well.
Monday I had to run over to Angel's house to let the water meter reader in, then I went back to my house and curled up on the couch still not feeling well. Two Feather moved more wood all day.
I picked Mom up from day care early to take her to her regular doctor's appointment. It was scheduled for 3:45 but we didn't get in to see her doctor until 4:00. She was tired and getting impatient waiting. He told me everything seemed to be going as well as could be expected and he wasn't going to change or add any medications. He did say that if she was having a hard time swallowing that I could crush the pills and open the capsules and put them in her food. I told him I have been doing that for about a month already. He commended me for keeping her in her own home and keeping her active with the day care. "You're doing a fine job with your mom," he said. It felt good to hear that from her doctor. He told me I looked tired, asked how I was holding up, and asked if I had gone to any caregiver support group meetings yet. I told him I was doing okay, I hadn't been to any meetings because they are all in the evening and I have no one to sit with Mom. I told him that I am involved with a group of caregivers online and we do quite well at helping support each other. He was pleased to hear that and told me if I decided to go to meetings personally to let him know and he would get a list out to me. "Without family help, Joanne, you need some type of support," he added. He said when Mom starts to get weaker and I felt she wasn't able to go to day care anymore that I was to call him. He reminded me that due to her weight loss hospice would do a re-evaluation and whenever I wanted to have hospice come in to let him know and he would write the prescription for it. I said thank you and would let him know when we get to that point. He wrote up a prescription for blood tests and asked me to have them done before we left, so we went down to the lab and waited an hour and twenty minutes before they finally took the blood needed for her tests. It's a good thing I thought in advance and had a sandwich and snacks with me so Mom could eat while we waited. She was exhausted and fell asleep in the car. We got home at 7:00 and she couldn't wait to get in bed. She went to sleep within seconds of her head hitting that pillow.
She must have been really exhausted because she never got up once during the night. I took her to day care on Tuesday and went home and curled up on the couch again because I still wasn't feeling well. I have this horrible back pain, an aching pain between my shoulder blades that just won't go away. Last night after Mom was in bed I planned to do some writing but I just didn't feel up to it. I stretched out on the bed with a heating pad on my back and went to sleep. I have a chiropractor appointment on Tuesday and my PCP appointment right after, so I guess I'll find out what the root of the problem is then.
Today the pain isn't any better. The pain was so bad today I nearly passed out, I would have gone to the ER but I have no one to take care of Mom if they decided to admit me. Instead of worrying about it, I do what I always do--made myself busy to keep my mind off of things. I started getting things prepared for tomorrow's dinner. I made two pumpkin pies and a cherry pie and I baked the green been casserole and candied yams.
Two Feather moved more wood while I was cooking at Mom's house. He stopped in now and then to make sure I was okay. The house smelled so good with the pies baking we both said we couldn't wait for Thanksgiving dinner because the aroma was making us hungry. He sat at the table and talked with me for a while and when he felt I didn't look as pale as I had earlier, he went out to move more wood.
I also peeled potatoes, tore apart three loaves of bread, chopped up celery and onion and mixed the stuffing so it's ready to stuff the turkey in the morning. All I'll have to do is get up in the morning, clean, stuff, and cook the bird, put the potatoes on the stove to cook, and brown the dinner rolls. Everything else is done and will just need to be heated.
Today when I picked up Mom at day care I was called aside by the nurse. She said the clients were talking about Thanksgiving and their families and she wanted to let me know what Mom had said. Evidently, Mom told everyone that besides her daughter (me), who takes care of her, she has two sons, but they live out of the country and that's why she never sees or hears from them. Funny how Alzheimer's can cause them to make up something in their own minds that's easier to believe or accept. Truth is her oldest son in North Carolina just called Sunday. It had been three weeks since he called, and her other son, who only lives a spit through the woods hasn't been to see her since August 25th and hasn't called since September 21. I guess for her it's easier to say they live out of the country than to make excuses for them.
I'm looking forward to Thanksgiving dinner. It will be nice to have someone in the house at the dinner table besides just Mom and me for a change. Two Feather, Angel, Tim, and Katie will be there. I'm anxious to see how much Mom will eat. I guess I'm hoping Thanksgiving dinner and all the wonderful aromas will make a difference in her appetite. We'll see.
The only thing that we'll be missing at our dinner table is Stacey, Dennis, Deandre, Trinity, and Quenton. We'll miss you!!! Love you all.
Wishing everyone a very Happy Thanksgiving!!!!!
Labels: Alzheimer's, Angel, back pain, day care, Deandre, Dennis, doctor, green been caserole, jdkiggins, Katie, Mom, pies, Quenton, Stacey, Thanksgiving, Tim, Trinity, Two Feather
Make me smile. Leave a comment...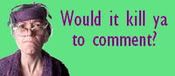 Comment Icon From
Paper Napkin