I Give Thanks
The turkey was in the oven and roasting as Mom slept. Two Feather came down and we sat upstairs sipping our morning coffee and talking about the two Thanksgiving dinners I'd prepared at our house. We'd only been together two years when I moved in with Mom to take care of her. Since then, we've had all our holiday meals here at her house. We talked about how we were just getting to know each other and learning how to live with each other when I had to move here; and we talked about how we'll need to learn that all over again when the time comes for me to move back.
I have so much to be thankful for. Not just today, but every day. Every day is difficult for Two Feather and I being apart, but holidays are an especially difficult time. He's been so very patient with me in my care giving for Mom and I know he's terribly lonely each evening as he sits in our house alone while I'm down here at Mom's. I'm so thankful that he's as understanding and caring as he is. For him, I give thanks; for without him, his support, and his shoulder to cry on, my care giving would be so much more difficult.
I had a very loving and caring father who made so many wonderful memories for me. Everything I know about carpentry, roofing, electrical work, plumbing, butchering, farming, gardening—well everything I know about almost everything, I learned from him. Mom taught me all the ladylike things, like cooking, cleaning, ironing, baking, and canning. They both taught me to be respectful, honest, and true to myself. For my parents, I give thanks. I couldn't have asked for better parents if I were to pick them out myself.
I miss my dad terribly during the holidays, and in the ten years that he's been gone; my mom has taken his chair at the head of the table, whether dinner was at my house or hers. Today, as everyone filled their plates with the holiday dinner, I thought how lucky I am to be here—to still be alive to enjoy each and every day with my family, whether it is at a dinner table or a conversation on the phone. Stacey called this morning and wished me a Happy Thanksgiving. Trinity and Quenton got on the phone and I talked to them, too. I give thanks that the Creator allowed me to live to have two wonderful daughters of my own, who in turn gave me grandchildren. For my life, my children, and my grandchildren, I give thanks.
I thought of all my caregiver friends and said a silent prayer for those who would be spending their first Thanksgiving without their loved ones. I wished for them to have a happy holiday knowing that their loved ones are at peace, and hoped they would be surrounded with love. And I wished a "good day" for those who are still caring for their loved ones. For my caregiver friends and all their support, I give thanks. I hope your day was as wonderful as mine was.
Quietly I watched everyone eat dinner; Katie sitting at the table eating with grown up silverware, and everyone adding to their plates. I paid particular attention to Mom. I'd filled Mom's plate with a little of everything from each bowl, and with each spoonful said a silent prayer of thanks for another day with Mom, my family, and for the food. The most anyone said while eating was how good everything tasted. We were too busy eating to say much else.
Each time Mom took a bite of food she told me everything was delicious and thanked me for making the meal. After each bite she would look up at everyone around the table, look down at her plate, fill her fork, and tell me it was delicious. I watched and listened each time she filled her fork. By the time everyone was finished eating, Mom had finished her whole plate of food, too! She said, "That was delicious, honey. I'm full." I said, "I'm so proud of you, Mom. That's the most you've eaten in a long time." She said, "Really?" I said, "Really! And I'm so happy you ate so well."
I turned my head to hide my tears. Two Feather saw them. I know he knew what the tears were for. Angel and Tim saw them, too. I'm pretty sure they knew why I had tears in my eyes, too.
For Mom eating, I give thanks.
Love you, everyone. Happy Thanksgiving!!
Labels: Angel, Caregiver, Dad, Friends, give thanks, Happy Thanksgiving, jdkiggins, Katie, Mom, Quenton, Stacey, Tim, Trinity, Two Feather
Make me smile. Leave a comment...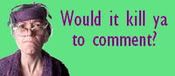 Comment Icon From
Paper Napkin