Alzheimer's Patients Still Have Feelings and Still Love
Retired Supreme Court justice Sandra Day O'Connor's husband has had Alzheimer's for more than 17 years. Recently she moved him into an assisted living facility where he's met and fallen in love with another Alzheimer's patient.
In this article,
"Forgetting long-time bonds, Alzheimer's patients fall in love"
Rubin Dessel, head of memory care services at the Hebrew Home care facility in New York, said he "can't quantify how often this type of situation occurs, but it will continue to occur in greater number as the years go by."
People with Alzheimer's lose their memory day by day; they live moment-to-moment forgetting their past, their children, even their spouses.
Though Dessel can't put a percentage on the incidence of Alzheimer's patients forgetting their loved ones and moving on to another relationship, he is correct in stating that it does occur and will continue to occur.
Caring for a loved one with Alzheimer's is heartbreaking in itself, and I applaud O'Connor's love for her husband, which allows her to feel somewhat relieved seeing him happy and enjoying life with another woman. It takes selfless people to care more about someone else's feelings than their own.
My mom is a widow of nearly 10 years. I feel that if I hadn't stayed close by her after my dad died, she probably wouldn't be around today. I kept her active. We went everywhere and did everything together. We went to homemakers together; seven to ten women my mother's age, and me, thirty years younger, sat around tables in the community room above the police station for three to four hours once a month making crafts, eating lunch, and sharing conversation and memories. Why did I attend a monthly meeting with women so much older than me? Because my mom wanted me to be there; she enjoyed my company and wanted to share as much time with me as possible.
Then, together, Mom and I shopped for groceries, Christmas presents, went to lunch, the hairdresser, took bus tours, spent days cooking meals and cookies, and spent hours at each other's homes just talking. She came to my house for dinner at least twice a week and we even took our dogs to the vet and to be groomed at the same time and scheduled our dentist appointments back to back.
She once told me that my brother told her she "needed to get out more and do things with friends" and my mom responded that she "did get out and do things and was happy spending time with me." In return, she was told, "But she's your daughter, not your friend." Mom told me she was angry and hurt by his response and said, "Joanne may be my daughter, but she's also my best friend."
Now, Mom with Alzheimer's spends the day at a day care facility where she gets her hair done once a month, has lunch and goes on outings with other clients, and I shop for groceries and presents and take the dogs for appointments without her.
What does all this have to do with Sandra Day O'Connor? Mom has an admirer at the day care; a bus brings Mr. N. to the facility while his wife goes off to work. Mom's talked about him daily for the past year and giggles like a school girl when she talks about how they dance together every week when the 'music man' comes to play oldies from their era. When the caregivers at the facility first told me about the little romance, my heart broke because she had forgotten my dad, but I soon got over that when I saw how full of life and happy she seemed to be. When I saw them dance together at this summer's family picnic, I cried, not because she forgot my dad, but because she was enjoying herself—life had meaning to her once again.
Mom and Mr. N. sat together occasionally and chatted since the first day I took her to day care. Those little chats have transformed into handholding and kisses on the cheek. He pulls her chair out for her and asks her constantly if she's okay.
This past Thanksgiving weekend Mom woke up several times during the night and thought Mr. N. was in her house. She sat on the edge of the bed talking toward the doorway of her bedroom. When I heard her through the monitor I went downstairs to find out what she was talking about. She swore up and down that Mr. N. was there and she wouldn't have invited him over if she thought he would have come so late. Five times she awoke each night saying the same thing. For three nights I told her she was dreaming and tucked her back into bed.
It was on Tuesday, my mom and dad's anniversary, that the caregivers told me that my mom and Mr. N. talked about 'going out' to lunch or a movie and since neither of them can drive any longer, maybe 'Mrs. N.' could take them where they want to go. It all sounds so strange, and of course the date will never happen, but for the moment they are talking about it, they are happy.
I told the caregivers at the day care about my weekend with Mom and I joked, "If I had known this before Thanksgiving, I would have sent Mom home on the bus with Mr. N. over Thanksgiving weekend and let 'Mrs. N.' deal with Mom's three-night long conversation with her husband."
It wasn't so cute at 4:00 AM when I was dealing with it, but now that I've had a chance to catch up on some sleep, I smile at the thought that my mom is acting like a school girl and is smitten by someone, who when I look at him closely, has many of my dad's features. I'm not sure if 'Mrs. N.' feels as O'Connor does, but I'm happy for them. I'll always be Mom's daughter, but it looks like Mom has a new best friend—someone she enjoys being with, talking to, and spending her time with. My smile deepens, I'll admit, when I think of my bother's hurtful words to my mom years ago. I don't think he could be so selfless to accept that Mom's new best friend is a married man.
If we learn one thing as caregivers, we learn that our loved ones still have feelings and they still remember how to love. That may be the only good thing about this disease, as well.
Labels: admirer, Alzheimer's, feelings, jdkiggins, Love, Loved Ones, Mom, smitten
Make me smile. Leave a comment...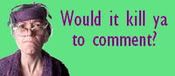 Comment Icon From
Paper Napkin