Happy Anniversary, Mom and Dad!
Today would have been my mom and dad's 66th wedding anniversary. Two years ago, when I mentioned the date, Mom was surprised when I said they would have been married 64 years. Last year and this year the date went by without me mentioning it, and without her realizing it. Dates and phone numbers seem to stick in my head. We always celebrated their anniversary at Thanksgiving every year. There won't be any celebration this year, but I can at least remember for her.
This picture is a wood burning of my mom and dad's wedding picture. When my daughter, Stacey, was in the Army stationed in Korea, she had it made for Mom and sent it to her for Christmas. Ever since, it's hung over the mantle of the fireplace my dad built in Mom's living room.
Happy Anniversary, Mom and Dad!
Since Thanksgiving I'm finding myself reminiscing more than I'd like to. I treasured the holidays when family used to gather together and I miss those times terribly. It seems since Dad died this family fell apart. Without Dad around, this family hasn't been any fun and since Mom has had Alzheimer's there's no 'family' at all. Not in the real sense of the word anyway.
Family used to talk to each other and invite each other to their homes. That hasn't happened, at least for me, since my dad died. I guess when Dad died, in the eyes of my brothers and nieces and nephew, I died too. No one had to bother with me, unless my mom pitched a fit because I was left out. It got to the point that I told her not to bother because I felt if they 'had to be told' to invite me, they didn't want me around. They made that perfectly clear over the years. The only person who seemed to care what was going on in my life was my mother (other than my daughters, Angel and Stacey, and my Uncle Joe). That used to bother me, a lot. But things have changed. Now...I couldn't care less.
Two years ago, I tried to plan a special Christmas for Mom. I invited both my brothers and told them to pass the invitation to all their family members to come home for Christmas. No one came except my daughters, their families, and Two Feather. Not even a call to say they weren't coming. All I got from the rest of the 'so-called family' was excuses, a hard time, and ridicule. For all intents and purposes, that is the last Christmas Mom remembers. That is, if you want to call a lot of prodding and picture showing to bring that memory back, remembering.
Normally, I put up the Christmas tree the day after Thanksgiving. It's still neatly tucked away in the box in which it was packed in 2005 and is sitting in my mom's basement. I'll probably have Two Feather take my tree back to my house in the next week or so and have him toss it in the basement to be stored with all the other decorations I doubt I'll bother with this year. I still haven't pulled out Mom's little tree that we used last year. Why bother. I used to love this time of year; now it's just another day that will go by without Mom 'really' knowing what day it is.
Alzheimer's is a cruel disease. It is taking Mom piece by piece and it is ripping me apart.
As much as I said I had so much to be thankful for at Thanksgiving, I'd just as soon pass on holidays from now on. I hate Alzheimer's! I hate what it's doing to my mom. And I hate what it's doing to me.
Labels: Alzheimer's, Angel, Christmas, Dad, Happy Thanksgiving, jdkiggins, Mom, Stacey, Tree, Two Feather, wedding anniversary
Make me smile. Leave a comment...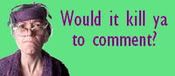 Comment Icon From
Paper Napkin