Twelve Days of Hell…
And I thought it was supposed to be close to the Twelve Days of Christmas. HA!!
Sorry to have worried everyone by my lack of posts. Thank you all so much for your posts of concern here and emails sent. Really, Mom's fine. I'm fine…just totally frustrated and exhausted, and I didn't want to write and be accused of "whining" by cretins (not you Alz and AW pals), who think they know everything.
Where do I start? Oh yes, the furnace. The furnace is still on the fritz. We thought it was fixed, but it stopped working again, and again, and again. Poor Tom, the furnace man, has been out here going on a dozen times to get it working. I feel bad for him. It runs for a while, quits, and won't fire back up. He changed one part and after installing it found out the new part had a factory defect as well. Got another one and the furnace worked another two days. Can't be that new part! Found out there was sludge in the fuel and the nozzle was plugged now too. He treated the fuel oil. It ran for about four days after a treatment then quit again. We put straight kerosene into the tank to thin the sludge. It ran two days and quit. This morning, Tom replaced the fuel line from the tanks to the furnace because they were plugged. It ran five minutes and quit. Now, poor Tom is frustrated too. He's getting another new different part right now, and we'll see if that makes a difference. We're both frustrated with this furnace, and of course the darn thing quits during the night when the weather is at the coldest temperatures. Ice cubes anyone?
In between the furnace issues, I called on November 23 (before any snow) to make an appointment for a local mobile tire company to come put new winter tires on the car on November 29. They didn't show up or call because (of course we got snow on the 28th), they had a slew of emergency calls. A courtesy call would have been nice. I called them the next day and they rescheduled for Tuesday, December 4. Waited all day, no show, no call. Called around to get prices elsewhere and no one had the tire in stock. Called them back on the 5th (now we have a snowstorm), to find out when they would be out to install the tires and they told me to come into the shop and they would put them on. So, finally, by 3:30 December 5th I have winter tires on the vehicle and have 30 minutes to pick up Mom. :D
All the while in between all this, I've been dealing with these crazy night visits by some nasty old woman Mom keeps seeing. I guess she got tired of Mr. N., and we're back to the old woman. Either way, I wish they'd both go visit someone else so I can get some sleep. I've been trying to catch a few hours sleep at home while Mom is at day care, but that's not working out well because I'm not one who is able to sleep during the day no matter how tired I am. Have a call into her doctor to see if there's anything he can recommend for her to take to get some sleep and get rid of these visitors. (I wouldn't mind so much if they would do some housecleaning, errands, and work while they're here. LOL Yes, that was my attempt of being humorous.)
Then, since it's been doing nothing but raining in between the cold and snow, we have a muddy mess in the driveway. So we had to call in for gravel to keep from sinking in the mud. That seems to be packing in fairly well so in the next few days we'll be calling for more to give the driveway a better base.
And then, we have to deal with those hunters Betsy mentioned. You would think that people who post their own land with no trespassing signs would not trespass on someone else's property to shoot a deer. But…no, we have ignorant people who not only trespassed off their property onto ours, shot the deer, drug it on our property down a gully, across my neighbor's front yard, down our driveway, and had their buddies pick them up at the bottom of our drive. Of course, I know who they are but I couldn't do anything because they pulled all this while I was picking up Mom. When I got back I saw the truck pulling out of our driveway, I saw the bloody drag marks everywhere, but they were long gone before I could get the license number and make of the truck. I can't stand ignorant people who think the law only applies to others or when it's convenient for them.
On top of that, I have a friend who is going through a very rough time right now and she has me worried sick. I won't go into detail about it, but please keep her in your thoughts.
So, I'm sitting here typing with finger-tip-less gloves, freezing my rear end off, waiting for the furnace to be fixed, worrying about my friend, hoping Mr. N., and the nasty old woman finds someone else to visit, wishing it were spring, and wondering if I'll ever catch up on the sleep I've lost. Other than that, it's the same old thing on a different day.
And…I haven't decorated for Christmas. Merry Christmas everyone!
Labels: Christmas, courtesy, freezing, friend, Furnace on the fritz, hunters, ignorant, jdkiggins, Merry Christmas, Mom, mud, night visits, no trespassing, Snow, tires
Make me smile. Leave a comment...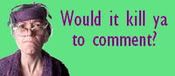 Comment Icon From
Paper Napkin