I Hate This Disease!
Mom received more Christmas cards today. One from my brother, Bob and his wife, one from my daughter, Angel and her family, one from Ardis, and one from Gale our GLO member. Thank you, Gale, Mom thought it was nice of you to send a card to someone you don't know. :) Mom knew Angel and Tim but couldn't remember Katie's name even though it was on the card, she wasn't sure who the other cards were from, so I went through the conversation again.
I watched her go through all the cards again today and she opened the new ones. She doesn't bother to read them; she just looks to see who they are from and puts them down. I asked her if she knew what the cards were for and she said, "no." When I told her they were Christmas cards, she said, "oh." She does not even understand what Christmas is at this point. I knew it was coming, but that doesn't make it any easier. That's why I wanted everyone to come for Christmas two years ago.
My thoughts and prayers go out to all who have lost their loved ones and are going through a difficult time during this holiday season. I've lit a candle for all of you and also for those who are still caring and especially Cinnamin and her family who are so close to the end. Hugs to you all. Please know that I'm thinking of you.
Have I said I hate Alzheimer's? I'm sure I have, at least a thousand times.
I HATE THIS DISEASE!!!!!
Labels: Alzheimer's, candle lit, Christmas, jdkiggins, Mom
Make me smile. Leave a comment...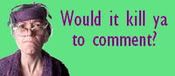 Comment Icon From
Paper Napkin