Someone Took Over The Dance Floor
I didn't get the presents wrapped as I planned after I logged off last night. Instead, I spent the evening, and most of the night, sitting in a chair by my mom's bed calming her down. Apparently she was dreaming of this Mr. N., again. Not such sweet dreams this time, though. She was already to get dressed and go to "club" to fight the new lady who's making moves on this guy. I guess this woman was dancing with Mr. N. in Mom's dream and Mom wasn't happy with how the whole dance went. "She shouldn't be acting like that with him," Mom said.
Mom's totally forgotten that Mr. N. is married. She wouldn't give him the time of day, other than friendly talk, if she didn't have this mind-stealing disease Alzheimer's. I told Mom it's nice to have friends at club, but she can't very well get angry at another woman when, in fact, Mr. N. shouldn't be acting that way with either one of them because he's married. That didn't matter; according to Mom, the new woman is married, too. Mom has no concept of marriage anymore, either. Oh brother!
I finally got her calmed down when I said, "Mom, you're 84, you'd look pretty silly fighting with another woman over a man." I think some part of her "old self" snuck back into her head for a few seconds because she said, "yeah, I don't want to make an ass of myself." I'm not sure whether she thought she'd make an ass of herself because she was considering fighting, or because he is married. Either way, it was a long night. She was up every hour angry with this other woman who's taking over the dance floor. On the brighter side of this whole night without sleep—she didn't remember any of it in the morning.
It's been a cold and blustery day. First it snowed, then it rained, then it snowed again. The ground is covered.
This morning when we ate breakfast, Mom mentioned how tired I looked and I simply said I didn't sleep well. :) I didn't mention anything of what went on during the night and I didn't mention that there was a pot in the middle of the dining room floor catching water either. Yes, just one more thing to FIX. The house has a new roof, so I can't imagine where the water is coming in. Must be a slow leak or loose flashing near the dormer. As soon as the temperature changed and it started snowing, the leak stopped and I was able to remove the pot before Mom got up. Guess we have a spot on the roof that will need fixed and a dining room ceiling that will need spackling and painted soon.
Mom colored in her coloring book for a good portion of the day. I sat in my chair near her in the living room trying to strike up a conversation. Even tried to get her to play with dominoes but she was having a difficult time with how that game goes. We ended up with tiles stretching from one end of the table to the other with no specific end. She won, though, because she was the first to use all her tiles. We colored together the rest of the afternoon until it was time for me to make dinner.
I watched the wind pick up snow and twirl it off the barn roof and blow it onto the ground. A chill went through me each time I looked out the window. As a writer, my imagination can sometimes make me literally feel the things I see. I'm looking forward to crawling under warm blankets tonight and hoping for a good night's sleep. I hope that's not in my writer's imagination, too.
Labels: Alzheimer's, imagination, jdkiggins, leak, Mom, roof, sleep, Snow
Make me smile. Leave a comment...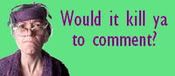 Comment Icon From
Paper Napkin