To Cinnamin
We've all been lighting candles for the past few weeks for Cinnamin's mom. Last night between 12:30 and 1:00 AM Cin lost her Mom to Alzheimer's.
You were an angel to your mom, Cin. You're a wonderful daughter. Hugs for the strength and courage you showed through this journey.
Know that you and your family are in my thoughts and prayers during this difficult time.
Labels: Alzheimer's, Cin, jdkiggins, prayers, thoughts
Make me smile. Leave a comment...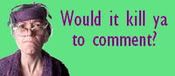 Comment Icon From
Paper Napkin