Thinking Too Much and Loving All Of You
Lately I've been thinking far too much. Thinking can get me in trouble and opening my mouth about what I think gets me into much more trouble than just thinking. Many of my caregiver friends have lost their loved ones to Alzheimer's and now they are grieving their loss and trying to find a new purpose in life. They are very special to me. They came into my life when I didn't know where else to turn and became my friends and became family. They are so fragile right now; I worry about all of them.
Betsy, Lori, Nancy, Flinty, and Stef, I watch, read, and listen to all of you and my heart breaks each day for you, wondering if you're all okay and how you're holding up.
Flinty makes me think even more than I do already with his deep and thought-provoking posts. I like that! Stef makes me think about when I was her age and how I handled situations and I find she's very mature for her age. Betsy, Nancy, and Lori always come around to support everyone sharing their thoughts and advice, and no matter how down they may feel, they always seem to add a touch of humor. I just want to thank all of you for being the kind, caring, considerate, and loving people you are.
Here we were, a group of caregivers, all fragile in our own little way, who came together to cheer each other on, give support, and help guide each other in the right direction, and we all found that there is no "right" direction—except move forward moment by moment. We did find each other, and what we found was a group of people who know how to care, know how to love, and know how to give of themselves when there seems to be nothing left to give.
I wish I could comfort each and every one of you personally because I've grown so fond of you, your words, your lives, and your strength.
Strength is something I thought I was full of, but I'm finding more strength from everyone's caring and loving words than I find in myself. Now, I just think I'm full…of what, I don't know. You can fill in the blank however you see fit. :)
I find strength from Rick's posts as well. He makes me laugh when I least expect it and his comments are sometimes hilarious and sometimes touching. No matter which they are, they always seem to fit for the mood I'm in at the moment. Thank you for that, Rick. You're a great guy and your mom is lucky to have you.
As for Gale and Dave, and those I may have missed—your loved ones are so very lucky to have you as well. Everyone's posts are so thoughtful, caring, and loving. I guess I'm feeling a bit strange tonight because I'm thinking of all of you, all at once.
I think of Cinnamin right now, who is pacing, wondering, and worrying, and I know how hard that is for her—how hard it was for all of you. I did the same thing when my dad was near death. My heart breaks for all of you, yet my heart knows that you are going to get past this and continue to care, love, and give to those who are still close to you. Cin, my thoughts are with you and my candle is lit.
Tonight, I lit a candle for each and every one of you wonderful people. May the light that shines from those candles shed some brightness in your life and light the way to your dreams.
What I'd like to give to each and every one of you is my utmost respect. I can't think of a better group of people who deserve it. I can only hope I've been there for you as you have all been there for me. Thank you for being you. I love you all!
Labels: Alzheimer's, caring, family, Friends, giving, jdkiggins, loving
Make me smile. Leave a comment...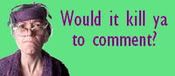 Comment Icon From
Paper Napkin