Two Feather—The Problem Solver
It's been difficult for me to get into the holiday spirit. On-going family issues that just should not be happening and wondering how I'm going to make time for everyone to see Mom has put a damper on any good feeling I have about this holiday.
In one last effort to try to make things right, I called my brother, Ray, yesterday morning and left a message for him to call me back.
I went on with my plans and took Mom to Angel's house around 2:00 to bake and decorate cutout cookies. Ray called me back while we were there. I asked if he was planning to visit with Mom on Christmas since he hasn't come around or called for four months. He said he hadn't planned on it, because of me, but he would like to see her. I asked Ray if I hadn't called to make these arrangements if he would have bothered calling. He admitted he wouldn't have. I told him I'd keep Mom up a little longer on Christmas Eve so he could visit after she got home from day care, and he said he'd have to check with his wife and call me back.
Mom and I were at Angel's house for only about an hour and a half and I took her home. When we got home, I called Two Feather to let him know we were back and told him my brother called me back. Two Feather told me to call him after I got Mom in bed because he wanted to come down and talk to me about something.
When Two Feather came down, he told me that while Mom and I were at Angel's house, he went up to talk to Ray. He asked him if he'd received my message yet and Ray told him no. Two Feather said he was there to make peace and told Ray that I had called to make arrangements to set a time for him to visit with Mom. He also told Ray that the lies about me trying to keep him from seeing Mom needed to stop. Two Feather told Ray that five years ago when he met my older brother, Bob, he asked Two Feather to take care of me, and he is taking care of me—from this point on if anyone messes with Joanne ever again, physically or mentally, they have to deal with him. He told Ray that I was doing fine taking care of Mom, but all the other family nonsense was making me sick and everything that has been going on hasn't been about keeping him from his mother. He told Ray that calling me names had to stop. Ray told Two Feather he appreciated him coming to talk with him. Two shook his hand in the Indian way expecting my brother to hold to his word from this point on.
I've said before that Two Feather always finds a way to solve a problem and he'll either leave you with a smile on your face or something to think about. It didn't surprise me that he took it upon himself to try to make peace during a holiday he doesn't celebrate. To Two Feather people should gift others with kindness and gratitude every day of the year, not just on one day. Everyday is Christmas.
When Ray didn't call me back, Two and I sat and talked about other options. I called Ray this morning and told him that since it's Christmas and I'm trying to make everyone happy, Mom could go off her normal schedule for one day so she could have Christmas dinner with him. He could pick her up at 3:30, spend a few hours with her before they had their dinner at 5:30, have dinner, and still spend some time with her after dinner.
Yes, Mom is normally getting in bed at the time they'll be eating dinner, and she'll be tired, but I guess it's better to see her tired than not at all.
No matter what adversities we meet, Two Feather is always the problem solver. It's just his way.
Peace is the best present I could receive right now and Two Feather has gifted me greatly.
Two Feather, thank you for that, and I thank the Creator for sending Two Feather down my path just prior to the time when I would need someone like this the most. I'm sure my Dad is smiling now. So, Two Feather…Wado. Gv Ge Yu I (This means, Thank you, I love you.)
Labels: Angel, Christmas, dinner, jdkiggins, Mom, problem solver, Ray, Two Feather
Make me smile. Leave a comment...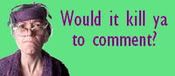 Comment Icon From
Paper Napkin