Christmas 2007--Making Memories
Here are just a few of our Christmas 2007 memories.
Katie holding her butterfly doll from Two Feather.
Mom opening sweatshirt.
Angel with pants we bought her.
Mom with her velvet coloring pictures from Stacey.
Me with bath set from Stacey.
Mom with jogging suit from Angel, Tim and Katie.
Katie opening present from Stacey.
Still unwrapping.
Of course, it's always been known that the boxes are the best presents of all.
One of these days I'll have to learn from Terry how to make one of those slide shows so these pictures don't take up so much room. LOL
Labels: Angel, Christmas 2007, jdkiggins, Katie, Memories, Mom, Stacey
Make me smile. Leave a comment...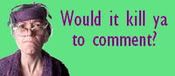 Comment Icon From
Paper Napkin