New Year's Eve
The last day of 2007, New Year's Eve, was a quiet one. I took Mom to day care for their New Year's Eve party and Two and I went to Wal-Mart to buy a few movies to add to our collection. Stacey called to wish me a Happy New Year because she was having company for New Year's Eve and she knew I was, too.
I picked up Mom at the usual time, brought her home, made dinner, and got her ready for bed. I learned a long time ago that it's always easier to get her ready for bed before dinner because she's always exhausted and less lucid by the time she finishes eating.
Mom received a piece of mail and I had her open it before dinner. When she looked at the envelope, she asked, "Who's Sheila?" I said, "Ray's wife." "Oh," she said. "Why's she sending me something?" Mom asked. "I don't know, Mom. Open it and see what it is," I said. Mom opened it to find a picture with a post-it note on it. She couldn't read it and asked me to read it to her. So I did. When she looked at the picture she asked, "Who are these people?" I told her the people in the picture were her grandson, his wife and their two daughters. Mom was seated in the middle of them. She recognized herself. "When was this taken?" Mom asked. "That was taken at Ray's house when you went up there on Christmas," I said. "I went there for Christmas?" Mom asked. "Yes, Mom. You went there for Christmas." "I don't remember," she said, as she put the picture on the table. She glanced at the picture several times while eating and I could tell by the wrinkles in her forehead that she was still trying to figure out when she'd been there and trying to figure out how the people in the picture were related to her. I tried to explain that Ray's son is her grandson and Toby's kids were her great grandchildren, but she didn't comprehend the relationship at all. She just said, "If you say so." She's not able to comprehend how this all relates to her anymore. It is so, so sad. Even sadder is that she didn't realize Christmas was here and gone.
During dinner I could tell she'd had a busy day. The lines on her face were more prominent and her eyelids were drooping. She was exhausted and as usual wanted to go to bed shortly after dinner. She was snoring her loud nasal snore within 15 minutes of being in bed.
Two came down to spend New Year's Eve with me and spend the night. It was one of five times he's stayed in the three years I've lived with Mom. Three were on New Year's Eves and two were because Mom asked him to stay because she was afraid and wanted a man in the house.
We watched one of the movies we bought earlier in the day. Yeah, I know, on New Year's Eve, it's sort of odd to watch
Halloween
, but it was something to watch and we enjoyed it. Angel called to wish me Happy New Year and said she and Tim were staying home for the evening and watching
Shrek 2
.
Two and I snacked on a meat and cheese tray his dad brought us on Chritmas. It was delicious. The movie ended at 11:00 and I turned on the news to watch it and then planned to watch the ball drop at midnight. Two fell asleep during the news and I watched the countdown for the New Year. He woke up long enough to look at the TV, wish me Happy New Year, kiss me, and went back to sleep. LOL All in all, New Year's Eve was a nice day and evening.
Labels: Angel, Halloween, jdkiggins, Mom, New Year's Eve, Stacey, Two Feather
Make me smile. Leave a comment...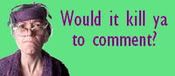 Comment Icon From
Paper Napkin