First Day of 2008
The first day of 2008 started off with new thoughts and new goals. After midnight, I pulled out my new journal and wrote in it for the first day of the New Year. I began my journal by attaching Keith's list of reflective questions inside the front cover and wrote my heartfelt answers to those questions. I even made a list of simple, yet manageable goals for the year. I'll talk about those later, but one goal is to write in my journal every night before I go to sleep. Thank you, Betsy. I'm taking your writing challenge. Lights were out and I was asleep by 1:00.
Two is an early riser, but I was surprised when he woke up at 4:30 and told me he was going home. I walked him downstairs and went back to bed. I didn't get up until 9:00. He came back down and sat with me to enjoy our morning coffee as we always do. He looked unusually tired and when I asked him about it, he said, "No wonder you're always so tired. I know Mother gets up during the night, but she didn't last night. Even when she doesn't get up, you can't possibly get any sleep with the way she snores." I burst out laughing and so did he. He's right. Whether Mom gets up during the night or not, I don't get much sleep with her constant snoring. Funny though, last night, I didn't hear a thing—not her snoring, not his snoring, nothing—I slept fine. I felt so comfortable with him there; I slept sound for the first time in a long time.
He left to go back home and I got Mom up to get her day started. I got her breakfast ready and we sat and talked while she ate. Then I convinced her to get into the shower without too much of a problem. We didn't finish with all the bathroom detail until just before noon.
Mom sat at the kitchen table and peeled potatoes while I put the traditional pork and sauerkraut and kielbasa in a roasting pan to make for dinner. Once everything was in the oven, she sat in her chair in the living room and colored for the afternoon, while I sat in my chair and tried to finish writing a book review that's been far too long in finishing.
I called Two around 4:00 and he came down to eat dinner with us. The conversation at dinner was quite different. For a moment, we thought Mom was fairly lucid when she asked, "Have my sons called?" "No, Mom. No one has called today." "When do I go back to club?" "Tomorrow Mom. You had today off because of the holiday." Then she looked at Two and said, "I'm glad you're here for dinner." It's so difficult at times to know if Mom knows Two or not. She's so good at talking to people and sounding like she's a best friend with them. It wasn't long before I realized she didn't even know me. Or at least I think she didn't. When she said, "You two are my best friends," I sort of got the idea that at that moment, Two and I were, in her mind, just friends of hers. Then again, she may have been sincere about her statement. She's always said I'm her best friend. I didn't interject that I was her daughter, being her best friend has always been fine with me.
After dinner, Two sat and talked for a while and then went back to our house. It was time to get Mom washed and dressed for bed and she was sound asleep by 5:30.
Just now as I was ready to close this writing, I heard her get out of bed. She woke up at 9:00 after a dream and yelled up the steps. I started walking down the steps to see what was bothering her and she asked me if Mr. N. was upstairs. I told her no and directed her back to bed. On the days she isn't at day care she asks all day when she goes back. Evidently, she misses being with her friends there. Glad I slept sound last night. I think tonight will be a long night again since Mr. N. is on her mind. Goodnight everyone. I'm going to catch my z's in between Mr. N.'s visits. LOL
Labels: 2008, Adult Day Care, best freinds, dinner, dream, goals, jdkiggins, New Year, snoring, thoughts, traditional pork and sauerkraut, writing challenge
Make me smile. Leave a comment...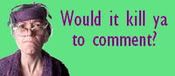 Comment Icon From
Paper Napkin