Whatevers, Whatchamacallits, Dohickies, and What Day Is It?
From the moment Mom woke up this morning I knew she wasn't going to have a good day. It always throws her off a bit on Saturday morning when she doesn't go to day care, but this morning she was a bit more off than usual. She couldn't figure out what clothes were what or how to put them on. This is normal lately, but today she couldn't pull up the words for pants, shirt, socks, or shoes. They were all "whatevers," "whatchamacallits, and "dohickies."
After I got her dressed, I walked with her to her dresser and told her to comb her hair. I went into the kitchen to get her pills, juice, and breakfast together. When I went back into her bedroom, she still hadn't combed her hair. She was standing in front of the dresser just staring at the things on top of it. I finally got her to comb her hair, and then she had to go to the bathroom. She was wandering around the house as if she was lost—couldn't find the bathroom, and couldn't remember how to get from the bathroom back to the kitchen. After breakfast, (she ate very little) I got her settled in her chair in the living room and put her coloring book and crayons on her table in front of her. She just stared at them for a moment, not interested in them, and leaned back in her chair.
Since she was having a particularly bad morning, I gathered all the bills, stamps, envelopes, and checkbooks and took them downstairs to the living room and set them on the table in front of my chair so I could write out checks for bills and keep her company at the same time. Big mistake. I wasn't able to concentrate on the bills and repeat answers to questions at the same time. If I'm not looking directly at her while I'm talking, she gets angry and thinks I'm not paying attention. This is why I normally do all the paperwork upstairs in my room, but because she was having an off day, I thought I should be close to her. I ended up taking all the paperwork back upstairs to do later after she was in bed and I brought down the book for which I was reading to write a book review. She wasn't in the mood to color or talk much, so I figured I'd read the book to her. She didn't look like she had an inkling as to what I was reading, but she smiled as I read to her and asked if it was a book I wrote and wondered if she had a copy. I said, "I wish, Mom, my books haven't even been submitted yet. But someday I'd do that."
This is where she blew my mind. She asked me to stop reading the book I was reading and asked me to get one of my books and read it to her. She was never a horror fan, so those weren't appropriate. Three of my six novels are horror, so they were out. Two of the six weren't appropriate because of subject matter and that left me with only two other choices: read the romance novel that I co-authored with my friend, or read the humorous short stories I wrote about living on the farm with her and dad. I chose the short stories.
It's been years since I wrote those stories and quite frankly I'd forgotten what I'd written. She didn't associate that the stories were written about Dad, her, and me. She didn't realize that those stories were true. They didn't bring back one single memory for her. They were just stories about some little girl who helped her father and mother on the farm. As I read, she did laugh at all the right places, though. That made up for her not really knowing they were true stories about us. I'd written them as children's stories for a series of children's books. The way I see it, Alzheimer's takes our loved ones back to being childlike. Since she found humor where the humor was meant, then I'd say I might have a pretty darn good chance of getting these little stories published as children's books one day. There's a bit of food for thought. I think, when the mood strikes, I'll start sketching the illustrations for them as well. Maybe I'll put that on my list of things to do for 2008. While I'm at it, I may as well work on my final edit of my novels, and try to put together a book proposal for each one.
But first…I'll finish my book reviews. A few will be posted shortly.
By the way, Betsy, I haven't missed an evening writing in my journal. (I do have a running journal of the three years I've been here with Mom.) This one, though, is just for me. ;)
The rest of the day and early evening wasn't much better than the morning. Mom was confused all day. She ate very little lunch and dinner and couldn't wait to go to bed to get up in the morning to go to club. I felt so bad for her that she couldn't remember that today is Saturday. She probably asked me more than 40 times today "is tomorrow Monday?" or "what day is it?" and each time she was disappointed when I showed her the calendar and told her tomorrow is Sunday. Even marking the days off on the calendar doesn't help anymore.
It was a strange day all the way around. She kept telling me she felt warm. Mom never "feels" warm! She always says she's cold and when I touch her she feels warm to me. She used to always ask everyone if they were cold, too. When my dad would hear her say she was cold, he'd always say to me, "Joanne, go get your sweater on, your mother's cold." It was a standing joke in the house.
Tonight, when I kissed her before I turned her light out, her cheeks and forehead felt cool, yet she was still telling me how toasty warm she felt. Odd. Just odd.
Well, tomorrow is Sunday and I'm prepared to answer the same questions over and over. Good thing is…tomorrow I can tell her tomorrow
is
Monday. :D
Labels: Alzheimer's, book reviews, calendar, children's books, Dohickies, jdkiggins, journal, novels, short stories, true stories, Whatchamacallits, Whatevers
Make me smile. Leave a comment...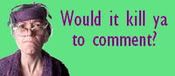 Comment Icon From
Paper Napkin