Just Another AD Sunday
It's Sunday! Just another AD Sunday on our little mountain. Though I repeated that today is Sunday numerous times, as I knew I would, and was able to tell Mom that she goes to "club" tomorrow, she wasn't anything like she was yesterday. Today, she talked all day about her mom and dad and my dad. She told me stories that I'd heard years ago and I sat listening to her tell them as if it were the first time I'd heard them.
The last time I heard her tell those types of stories was five or six years ago. I was amazed at how she was able to recall the detail from those stories. If I didn't know she had Alzheimer's I certainly wouldn't suspect it from her recall today. Her trip down memory lane was as spot on as the first time I'd heard the tales when I was a child.
I'm always amazed at how Alzheimer's plays with our loved one's mind. One day or moment it allows shards of light from the past, and another day or moment it steals every memory they have. It's truly a mind-boggling puzzle to we caregivers never knowing what may or may not be in or on their minds. It's scary. I can only imagine how it must feel for them.
The more I thought about it, the more I wondered if I may have short circuited those plaques and tangles in her brain with the short stories I read to her yesterday. She may not have recalled anything of what I was reading, but I wondered if it triggered her to remember her childhood and earlier years. I think it did because she hasn't talked about her mom and dad in several years.
It was good feeling that I may have triggered some fond memories for her from her past in a round about way. I never knew her mom; she died before I was even thought of, but I'd always felt like I knew her from the stories my mom told me about her. Mom talked about when she first started dating Dad, and I had to button my lip to keep from finishing the story. I knew exactly what she'd told me before; I knew the story by heart, and today the story came out exactly as she once told it. Today, as she used to before, Mom spoke of her mother with such admiration. She started to tear up as she spoke of her and said, "She was such a lady."
Mom said she wished I would have had the chance to know her mother and I said I wished I had, too. Then I said, "Mom, if she was half the lady you are, then I guess I know her through you." Mom smiled and then laughed a long, hard belly laugh and said, "I'm not near the lady she was. I don't hold a candle to her."
"That's funny," I said. "I feel the same way. I'm not near the lady you are and I'll never hold a candle to you."
Mom got up out of her chair, pushed her walker over to me, hugged me, and kissed me on the cheek.
"You are my candle," she said.
How do you respond to a compliment like that other than to say, "Thank you, Mom! I love you."
*** I would have ended this post with that wonderful ending, but…
This little candle's flame is nearly flickering out with all the imaginary visits from Mr. N. lately. Four times since 7:00 I've had to go downstairs and guide Mom back to bed after her thinking Mr. N. was in the living room. I asked Mom what she would do if Mr. N. were here? This is the part where I think I needed the walker to hold me up and keep my balance. She said, "I'd bring him back here in my room and take him to bed with me."
Oh boy! Am I going to have fun tonight! ROFL This is getting to be a bit awkward.
As I explained to her that Mr. N. was not in the house and she should get some sleep, she looked at me strangely. Before I had the covers pulled up and tucked her in, she asked, "Who's this Mr. N. guy you're talking about?"
I burst out laughing and she laughed, too, as I said, "We'll talk about it tomorrow, Mom. Let's get some sleep."
Here's hoping. :D
PS. Oh, yes, I can't go without mentioning my mom's and my neighbor turned 102 today!
Happy Birthday Mrs. E.
Labels: admiration, Alzheimer's, Dad, jdkiggins, Just Another AD Sunday, lady, mind-boggling, Mom, recall
Make me smile. Leave a comment...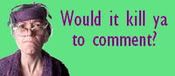 Comment Icon From
Paper Napkin