BOOK REVIEW: An Uncertain Inheritance: Writer's on Caring for Family edited by Nell Casey
An Uncertain Inheritance: Writer's on Caring for Family
Edited By Nell Casey
William Morrow/Harper Collins(November 13, 2007)
304 pp Hardcover
Nonfiction: Parenting/Families/Aging/Caregiving
ISBN-10: 0060875305
ISBN-13: 978-0060875305
Amazon Price: $16.47
As a writer and sole caregiver for my 84-year-old mother who has Alzheimer's,
An Uncertain Inheritance: Writer's on Caring for Family,
edited by Nell Casey piqued my interest.
Writers produced the 19 essays gathered for this book, but more importantly, these essays were written by caregivers and those being cared for themselves with a no-holds-barred brutal honesty.
Under my currant circumstances, I thought this book might bring me to tears with each story, but I was wrong. It's the powerful honesty, written eloquently in all its vulnerability, that will grab your heart, reduce you to tears, cause you to chuckle, and in some cases infuriate you, as it did me.
These stories weren't fiction fantasies or pretty pictures of caregivers being selfless martyrs, as some may think, and the patients weren't patiently waiting to die; these were true accounts of people — parents, children, spouses, friends, and siblings — who while living life, being all they could be, were stricken with illness or injury and needed help.
Caregiving for the chronically or critically ill is not a pretty subject. These writers opened their homes, hearts, and minds and let out every ounce of love, fear, frustration, and anger and shared the trials and tribulations they felt during their caregiving journey.
Each essay had its own merits, story, and sense of need.
Helen Schuman in her essay,
My Father the Garbage Head
, writes with poignant, heartwarming honesty of her father's heart attack and strokes which led to his death.
Sam Lipsyte, in
The Gift
speaks openly and humorously about his drug abuse, how it wrecked his life, and while he "cleaned up his act" his mother let him move back in. Shortly after, his mother tells him and his sister that her breast cancer had recurred. He handled the news with a matter-of-fact acceptance that he would be her caregiver.
I was sort of relieved when I realized it was going to be me. Why knock yourself out trying to resuscitate your life when you can cling to somebody else's. (12)
Ann Harleman's
My Other Husband
describes her husband's illness and the grueling bleakness and burden of MS.
MS is something that goes on happening—growing, changing, worsening—measurable not in weeks, months, or even years, but in decades. Something huge and black that descends slowly and inexorably and surrounds you. (21)
Her heartfelt love showed in each of the slices of their life she describes before MS took over. Her friend told her, "With chronic illness, a lot of times the caregiver ends up dying first. Out of stress and exhaustion. I've seen it." (28) After years, frustrated and worn, she finally decided to place him in a nursing home "for his sake and hers."
Eleanor Cooney's essay
Death in Slow Motion
was formed from a former Harper's Magazine article and later became a book under the same name. The eloquently written story is about her mother, writer Mary Draper, and her decline with Alzheimer's Disease.
Cooney shoots from the hip with her openness of dealing with Alzheimer's and the dilemmas and life interruptions her and her mate dealt with after moving her mother into an apartment close to their home. After just a few short months of her mother's arrival, Cooney finds herself in an argument with her mate, who bolts out of the house to clear the air, and she stands in the dark with her "heart pounding with fury, sorrow, anguish." (120)
She speaks of her mother's lack of memory, repetitive conversations, questions, and how people with dementia "become unappetizing."
They don't bathe unless you make them…You will begin to find a person you love…odious. And you will hate yourself for feeling it. (126)
Susan Lehman, in
Don't Worry. It's Not An Emergency
tells a grim, yet capturing story of her nearly 300-pound mother, who spoke with a "thunder" voice, or "blast," sat and ate sorbet, doughnuts, huge amounts of candy, and smoked cigarettes all day. Lehman moved her mother from her home in Ohio to live on the 8th floor of her apartment building so she could keep a closer watch on her. Her three children adored their grandmother and visit her daily.
The story of her mother's illness is not the least bit funny, but Lehman manages to spin the tale with utmost charm and humor.
Did I mention that my mother had no teeth? And that as a result, her mouth flapped back and forth, like bird wings, over her face? Did I mention that my children called her Doodles? (167)
In the Land of Little Girls
Ann Hood's 36 hour experience with her 5-year-old's illness and quick death was appalling in many ways. Hood describes not only the illness and death, but also her devastation at Gracie's death and the horrible treatment she and her family were subjected to in the hospital.
An Uncertain Inheritance
may never become a best seller due to the subject matter, but it should be a book that each and every human being should read and realize the reality it speaks about; they too may face the need to be cared for, or need to care for someone else. I only hope the readers have families like these who take that responsibility seriously regardless of time-consuming needs, the love, the fear, the frustration, the anger, and the rejection that may be a result from it.
Click
HERE
to purchase
An Uncertain Inheritance: Writer's on Caring for Family
.
Labels: Alzheimer's, An Uncertain Inheritance, Caregivers, caregiving, family, Friends, illnesses, jdkiggins, Loved Ones, MS, Writer's Caring for Family
Make me smile. Leave a comment...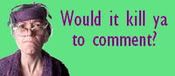 Comment Icon From
Paper Napkin