Power Outage and No Day Care
When I pulled up to the day care this morning, there were no lights on inside. Evidently, high winds intermittently knocked down trees and power lines and the day care was within that power outage. They were on the phone calling to find out how soon power would be restored when we walked in. Their battery emergency power unit kicked in so there was heat and emergency lighting. I had second thoughts of leaving her, but figured Duquesne Light would have them up and running in no time being that they are a care facility. Well, that time didn't come. I received a call at 9:00 requesting me to pick up Mom because Duquesne Light told them they probably wouldn't have the power back on until 6:00 PM. The day care's battery power died after two hours and they had no way to make breakfast or lunch and the building went dark when the emergency lights went out, so they called everyone and requested them to pick up their loved ones.
I wasn't feeling well when I got up this morning and was looking forward to getting a few hours sleep. If I felt better, I was going to suggest that Two and I go out and do something—bowling, movie, anything to get out of the house and do something different. After I received the call to pick up Mom, I burst into tears—not because I had to pick her up, but because I realized how much I cherish my time with Two and because I realized how totally exhausted I've become. The way I was feeling, the last thing I wanted and needed to do was jump back into the car and drive. I needed rest—even if that rest was only to lie on the couch and relax.
It was strange walking into the building when I picked up Mom. There wasn't the normal hum of conversation, chairs moving, and faces glancing toward the door to see who was being picked up first. The room was dark and quiet. I was filled with an uncomfortable and eerie feeling seeing only the silhouettes of all the clients huddled at the one large table in the front of the room waiting for their loved one's to show up. The usual smiles were replaced with worried lines and wonder. I could hear one of the caregivers reassure a client that their loved one would be there soon and s/he wouldn't be stuck there in the dark. I could only imagine how strange and frightening the stillness and darkness felt to them.
Naturally any change in our loved one's routine muddles their thoughts, so when Mom walked in the house she wasn't sure where she was; yet she headed straight for the bedroom to change clothes because that is normally what she does. I guided her away from the bedroom and into the living room to sit in her chair explaining that it was only 10:00 AM and we had the whole day ahead of us.
And indeed we did! My head was throbbing, my stomach and chest felt as if someone had beaten me with a baseball bat, my legs felt like rubber, and Mom was all ready to go to day care. She didn't remember that she had been there and sent home because the electric was out, so we went through the "what day is this?" and "do I go to club tomorrow?" questions all day. Each time, I explained that she was at club for a few hours, but the power was out, so they sent everyone home, and she would go back tomorrow.
Mom knew I wasn't feeling well, so after lunch she sat in her chair in the living room and colored while I stretched out on the couch where she could see that I was resting and knew I was OK.
After she was in bed for the evening and I knew she was sleeping, I went upstairs and fell asleep across the bed and hence a later post. Three hours rest and I'm going back for more. Night all...
Labels: Alzheimer's, day care, jdkiggins, Mom, power outage, routine, Winds
Make me smile. Leave a comment...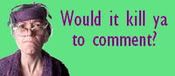 Comment Icon From
Paper Napkin