Thanks For Making Me Laugh
It seems like weeks since I've posted and it's only been five days. Good grief, where do I begin. Friday I still wasn't feeling well so the day dragged on. I called Stacey's cell phone and found out that she hadn't called after the tornado scare because Trinity had spilled orange juice on her cell phone. She was able to retrieve messages but she couldn't make calls and calls wouldn't go through. Thank you all for your concern for her and her family. As you already know from her post, they are all fine.
Late Friday evening my mom's neighbor, Mrs. Y. called to let us know Mrs. E. (her mother) passed away. After I hung up, I cried. Mrs. E. was one of the sweetest ladies I've ever known. I never heard her say a bad word about anyone in the 55 years I knew her. She was able to enjoy many of her family members coming in to visit and celebrate her 102nd birthday the Saturday before her death. I'll miss seeing Mrs. E. outside in the yard and waiving to her and her son, Billy, as we drive up the driveway past their house to Mom's. She always said, "the good lord lets me live to take care of Billy." I imagine Billy will move in with Mrs. Y. so she can care for him now. I have the utmost respect for her entire family. Daughter, grandchildren, and great grandchildren pitched in to help in the care of Mrs. E. There was an abundance of selfless people who gave of their time and love to show this 102-year-old woman the respect she deserved. I'm sure she left this earth knowing that she had a wonderful family.
Saturday morning I woke up Mom, got her washed and dressed, and made her breakfast. After she ate and was settled in her chair in the living room, I broke the news to her about Mrs. E. I didn't think it would be easy, but I certainly didn't expect what took place. First I had to explain who called. She didn't recognize her neighbor's name. After explaining that Mrs. Y. called and who Mrs. Y is, I proceeded to tell her that Mrs. Y's mother died, and had to remind her that Mrs. E. was the other neighbor on our driveway. I felt like I was in the Twilight Zone trying to explain who her neighbors were, just to let her know one of them had passed away. If Mom didn't have Alzheimer's she would have been in tears about Mrs. E's death—after all, she had been neighbors with her for 50 years—but this disease steals so much memory and emotion from our loved ones, it's difficult to tell how they will react. Her reaction was far from what I'd expected. She merely said, "That's a shame. She was old, wasn't she?" A few minutes later she said, "That's strange. You don't think about death until it's next door." That was it! No emotion. No tears. No memory.
Sunday morning the lady from Mom's church came to give her communion. Angel, Tim, and Katie came to visit around 11:15 as the lady was leaving. They stayed until 12:30. At 1:30 my brother, Ray, came to visit.
As I walked upstairs after getting a cup of coffee from the kitchen, I heard Mom tell Ray about a lady who visited yesterday (it was actually that morning) and how nice this lady was. She said something about her talking a lot and trying to sell her something (Avon maybe) but she just listened and didn't buy anything. Later I heard her say that the lady comes every six months or so, then it was every couple weeks, and she buys all sorts of nice things from her.
I stay upstairs in my room while my brother visits, but when I come down to get something to drink or use the bathroom, I caught bits and pieces of her conversation, and Ray talks loud so it's difficult not to hear some of what he says.
After about 45 minutes, I went downstairs to get Mom a cup of tea and was invited to sit with them in the living room.
I had to laugh at a few things I heard, though. Ray asked Mom if she had candy in her mouth. She said, "No, I got a new plate and it's bothering me." She told him she got it from someone other than her regular dentist about three weeks ago.
Ray doesn't come around Mom often enough to know she's picked up a few new odd habits. One is running her tongue across the top of her plate and the back of her teeth. She does it all the time. Her mouth moves as she does this and she does look like she has something in her mouth. Her other little odd habit is her making a "humph" sound all the time. When she'd mumbled "humph" before Alzheimer's, there was something on her mind that she was about to say, and I could expect an explanation for the sound she'd made. Normally, it was just something she thought of and wanted to tell me. Now, she just says, "humph" and nothing follows except another "humph."
I don't consider this a habit, but it is something I find quite fascinating about Mom having Alzheimer's. When Mom can't search her brain and find a reasonable and true answer to a question she's asked, she'll make up an answer. :D
So with that in mind, no, Mom didn't go to a different dentist and she didn't get a new plate, the nice lady who came Sunday morning was from the church to give her communion and she doesn't sell Avon, Mom doesn't read anymore because she's not comprehending what she reads, she doesn't crochet, she doesn't watch TV at 6:00 PM because she's normally asleep by 5:30, and the dogs she says she sees in the yard are really deer.
There was very little of what Mom said that was real. She did remember that Mrs. E. had died and point blank said, "Oh, she's dead," when Ray asked how Mrs. E. was doing. That, and the fact that Mom likes to color, is about the only thing that came out of Mom's mouth that was reality.
The funniest part about the entire day was when Mom and I were talking about the day before she went to bed. As I dress her for bed, I always talk about what we did all day to help remind her of what went on. Not that it does any good anymore, but it gives us something to talk about and she enjoys hearing how her day went.
I told her that the lady from the church doesn't sell Avon, and the deer in the yard aren't dogs. She laughed when I told her that is what she told Ray. What was truly hilarious was when I told her that she did tell Ray a few things that really happened. She asked me what she said. I said, "You remembered that Mrs. E. died and you told him you love to color." She looked at me with this surprised look and said, "I like to color? Really?"
I couldn't keep from laughing. Once again Mom went to bed after a hardy laugh about how this crazy disease gives us a little humor. I bent down to give her a kiss and tuck her in and she said, "Thanks for making me laugh."
Hey Watching You, pass the word on to Ray. Just want to make sure everyone knows the reality of Alzheimer's. You can't always believe what our loved ones say is real.
Labels: Alzheimer's, answer, emotion, jdkiggins, laugh, make up, odd habits, question, reality
Make me smile. Leave a comment...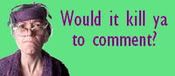 Comment Icon From
Paper Napkin