Oatmeal and Dogs Don't Mix
Or at least they shouldn't!
I've had my hands full this past week going through files getting everything ready to prepare taxes. I should have known better than to try to do anything remotely time consuming while Mom was still up and awake. It just goes to prove that even though you "think" you know all there is to know about the sounds of the house, walker, Mom, and the dog, there is always a sound you don't hear or one you haven't heard before.
I was upstairs sitting on the floor in the midst of a pile of paperwork when I heard Mom's walker rolling along the carpet. No problem. She was heading to the kitchen most likely to get a drink of water. Correct. I heard the water running. Then, I heard her say, "I'll let you out in a minute." Heard the door open next and her cussing because she was having a hard time getting the dog hooked to the chain on the porch. Less than a minute later, the dog's tags on his collar are tingling, the door closes, and he starts barking, so I know he's back inside. The reason I know this is because her dog only barks when someone comes in the door and he barks
at
the door after it's closed. Strange, I know, but he's done this for as long as I can remember.
Next I heard this strange sound I hadn't heard through the monitor before. I had no idea what it was so I figured I'd better go check out what was going on.
Mom was in the dining room and headed for the living room by the time I got up off the floor and made it down the steps. I asked her if she needed anything and she said no and was very proud of herself for letting the dog out to do its business.
Two Feather was on his way down to get the mail, so I headed for the bathroom before he had a chance to come back up the hill.
You're going to love this one.
When I went into the kitchen to let Two Feather in, I noticed a powdery substance in the dog's dish. I looked closer and realized it was oatmeal. I turned around and saw an empty package of instant oatmeal on the kitchen counter. Once again I was brought to tears from laughing. I realized the sound I'd heard earlier was Mom laying the dog's dish on the counter and back onto the floor. She hasn't fed her dog for the past three years so naturally it wasn't a sound I'd heard in a long while. With Alzheimer's we can never be certain what is on our loved one's mind. I'm not sure if she was thinking she was feeding him or giving him a "good boy" treat for going potty, but either way, he got oatmeal. ROFL
Guess I don't need to tell you what else I hand my hands full with for the next two days. :)
Hint: Don't give dogs oatmeal for dinner or a treat. It cleans them out as well as it does we humans. LOL
Anyway, in between getting paperwork sorted, and cleaning up dog doo-doo, I've been working on getting my "to be read" pile of books down to a more reasonable level. I've become so far behind. I send my apologies to the authors. I may be a bit behind, but I am reading in the order received and will complete them and give each book the attention it deserves.
So, anyone who's not interested in books, you may want to skip the next few posts. Yes, I'm at it again—book reviews!
Labels: Alzheimer's, barking at doors, book reviews, dog doo-doo, Dogs, jdkiggins, Mom, oatmeal, paperwork, Two Feather
Make me smile. Leave a comment...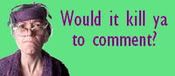 Comment Icon From
Paper Napkin