Spring! Snow? Happy Easter!
Hello, my friends. Didn't mean to worry everyone. Just been very busy taking care of a few things around both houses. The last three Fridays we had fish dinners from our local fire hall. Two Feather sat with Mom while I went and picked up the dinners the first two Fridays and on Good Friday Angel and Tim bought dinners for all of us and brought them to the house to eat dinner with us. Good Friday marked the tenth anniversary of my dad's death.
My doctor has put me through a battery of tests and I'm still waiting on the results from those. He's not happy with my weight loss and it's time for my annual tests anyway. We'll see what comes from that. I'm not really worried. Whatever comes, comes. I'll handle it.
I've been up to the nursing home to visit my Uncle Joe twice since I posted last. He had the flu but seems to be doing better now. His dementia is progressing and his lack of concentration was very evident this past week.
Mom's appetite is getting better and she's abandoned using her walker. She's getting around pretty good and her legs seem to be getting stronger as long as the walking distance isn't more than ten feet. The time change confused her for nearly a week and she's back to getting up and down during the night. Seems lately her Alzheimer's is taking a few steps back instead of progressing. That's a good thing, it's just you never know from one moment or day to the next which way it's going. Memories are coming from nowhere at times and conversations are forgotten within minutes or seconds. I hate this disease and its back and forth, ups and downs and plateauing.
Happy Spring and Happy Easter to all who celebrate. Though I'm not sure spring has sprung with 20 degree temperatures here and another inch of snow. :( The sun has melted all the snow finally.
I've missed reading what's going on with everyone. I'll try to get caught up on my blog reading this week. Hope all are well. Have a great week everyone!
Labels: Alzheimers, Angel, Dementia, Happy Easter, jdkiggins, Mom, plateauing, Two Feather
Make me smile. Leave a comment...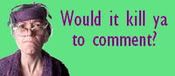 Comment Icon From
Paper Napkin