A Whole Bunch of Rambling
I haven't blogged much lately because…quite frankly—I'm exhausted! After reading Robyn's post about her mom getting up several times a night, I figured I'd finally talk about what I've been going through.
You all know about Mr. N. and how he and Mom have become such "great" friends. Well, this friendship and talking has turned to him holding her hand and kissing her on the cheek. The day care workers thought it was all cute and innocent and nothing indecent. Maybe not indecent, but still, he is a married man, Mom is vulnerable, and I told them I thought they should deter these kinds of actions because I didn't want my mom to get hurt. I wasn't only worried about Mom getting her feelings hurt when Mr. N. may put his attention elsewhere, but also I was worried that Mrs. N. may walk in and see this and maybe not be so understanding. I still don't know if she knows about it.
It's nice that Mom is enjoying the day care socially, but I spoke with the day care workers several times months ago asking them to discourage the hand holding and kissing. They all told me how Mom and Mr. N. would make plans to go out and how they thought it was so cute. Deep down I knew it was a catastrophe waiting to happen. I know my mom.
Now, another lady is paying attention to Mr. N. and Mom is not happy! For the past two months, Mom has been getting up nearly a dozen times a night talking to Mr. N. in her sleep, getting out of bed, thinking he's in the living room, thinking this lady is here stealing him. Good grief. I've told the day care workers that he is on her mind constantly when she is at home and reminded them once again that they should have discouraged this type of affection between them.
The beginning of last week Mom became aggressive at day care toward the lady who is showing Mr. N. affection. Mom told her to move (in not so nice words) and when the lady argued with her, Mom told her to shut up! At the end of last week Mom became angry again when she saw this woman sitting by him. She clenched her fists and said she was going to go over there and punch the woman (also not in such nice language). The day care workers told me how she's reacting and said something needs to be done. I said, "I've been telling you that for months. Oh, it wasn't a problem until the snake came out and bit you in the face. I've been dealing with her up all night for a few months because of this situation. You are the one's who thought it was so cute, so you deal with it here without being mean to my mother."
I suggested that when Mr. N. reaches for Mom's hand or kisses her on the cheek he be reminded that he is married, and suggested that Mom be reminded that he is married and these type things shouldn't go on. If Mom didn't have Alzheimer's she wouldn't allow such a thing. She would be horrified if she were in her right mind and knew she was allowing a married man to show her affection. Dancing and talking is one thing, but she wouldn't allow this. For crying out loud, my dad's best friend who had been a widower for more than 20 years asked her out and kissed her on the cheek six years after Dad died and she told him off. Poor guy. That relationship would have been nice, but she didn't want anything to do with it because he had been my dad's best friend.
So…here I am, up nearly a dozen times every night with her cussing and yelling at Mr. N. and this woman because he's cavorting with someone else. He's still mainly interested in Mom but since the day care workers have been trying to change the situation (a little too late) Mom is becoming more and more angry.
Her anger wouldn't change now even if they let them sit together because Mom would still carry on about the "other" woman. When something really matters to Mom, she doesn't forget it. I told the day care workers they have to deal with it since they let it go on so long.
Angel came over on Saturday to sit with Mom from 1-4:00 so Two and I could visit a friend of his in Ohio. Nearly two hours driving and an hour visit. We were home by 3:30. It was good for Two to get out and see someone he hasn't seen since November. The driving wasn't much fun, but it was good for me to get out into different surroundings for a few hours. I realized how much my social skills are deteriorating. I barely talked and when I did, I stumbled over everything I said. Good grief, I need to get out and talk to people before I lose the ability to speak other than repeating myself all day long.
Sunday we had atrocious winds. The lady from church came and gave Mom communion at 1:00. When she came in the house, she said a tree had fallen over Mom's driveway and was leaning on the power lines. The lines had been ripped off my neighbor's house. My brother came at 1:15 and said the same thing. He parked his truck and walked up the drive because he didn't think he could get under it with his truck. He told me I should call the power company. I said, "Of course, just one more thing for me to do because no one else does anything." He was going into the hall to pick up the phone (which hasn't been there for three years) and call the power company and said, "What's the address here?" "You don't even know your own mother's addresss?" I asked. "Nevermind, I'll call the power company." He stayed until 3:15. I made Mom dinner and we chatted until 4:30. She was tired and wanted to go to bed. It was probably a good thing that she went to bed a tad earlier because the power went out at 5:00 and didn't come back on until 7:00. Thank goodness the power came back on in such a short time. I was bored stiff for the two hours it was off trying to read a book with a flashlight. LOL Mom was up ten times during the night. This time she was whispering and telling Mr. N. she hopes he's happy and then yelling at someone to get the hell away from her. I have no idea who she was talking to then.
Monday morning I had Mom in the car and down the driveway and had to back up all the way to the house. The power company cut the end of the tree off the power lines, tightened the lines, and called me at 1:00 in the morning to find out if our power was back on, but they left the tree on the driveway. I didn't know about the tree until I tried to leave in the morning. I called Two Feather to come down and cut up and move the tree so I could take Mom to day care. I called my brother too, figuring he should do something for a change and help Two, but he didn't answer his phone. I didn't bother leaving a message on his answering machine. He was home.
Mom's medication needs changed because she's getting the itching side effects from trazadone. The doctor took her off respiradol several months ago and I asked him if he would put her back on it but instead he said to try the trazadone. Mom's moods are worse and she's getting up at night more and more. Now, he's going to order seroquel. They were suppose to call it in on Monday but the pharmacy said they didn't. The office was closed by the time the pharmacy called to see what the doctor was going to order. The doctor's office was closed today probably due to the snow, so I'll have to call them tomorrow and find out when they will call it in.
I kept Mom home from day care today because it snowed overnight and she (and I) were up all night with her dreams, hallucinations, cussing, and wandering. She was a gem all day. She sat and colored while I went through stacks of receipts and got everything together for her taxes. Next, is getting my Uncle Joe's paperwork ready and then I can finally get the taxes done. That will be a burden off my mind.
We got about six inches of snow today. Then it turned to freezing rain. I'm not sure what it's doing out there now, but I can say that I'm truly looking forward to summer. Yes, I said summer. The heck with spring. Let's just move onto the 70 and 80 degree days. I need a vacation!
Labels: Alzheimer's, ice, jdkiggins, medication, Mom, power lines, Snow, tree down, Two Feather, vacation, Winds
Make me smile. Leave a comment...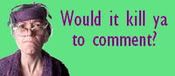 Comment Icon From
Paper Napkin