The Rash Is Gone
Not much new here lately. Mom's rash is gone. The antihistamine and the anti-itch cream must have done the job. It's been gone since Friday. The dermatologist couldn't fit her in until this week and they said to cancel the appointment if the rash was gone by then. So I guess we'll never know what it was. I'm just glad it's gone and the itching is over with.
We're seeing more robins and the woodpeckers are starting their drumming on the trees. The daffodils are poking out of the ground at Mom's house. It's starting to look like spring here. My place sits in the woods and doesn't get much sun, so there's still four inches of snow on the ground and it still looks like winter up there.
Angel, Tim, and Katie visited on Sunday. Other than that, it's been quiet around here and I don't have much to say.
Just wanted to let everyone know we're doing okay here.
Labels: Angel, gone, jdkiggins, Katie, rash, robins, Snow, spring, Tim, winter
Make me smile. Leave a comment...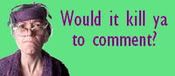 Comment Icon From
Paper Napkin